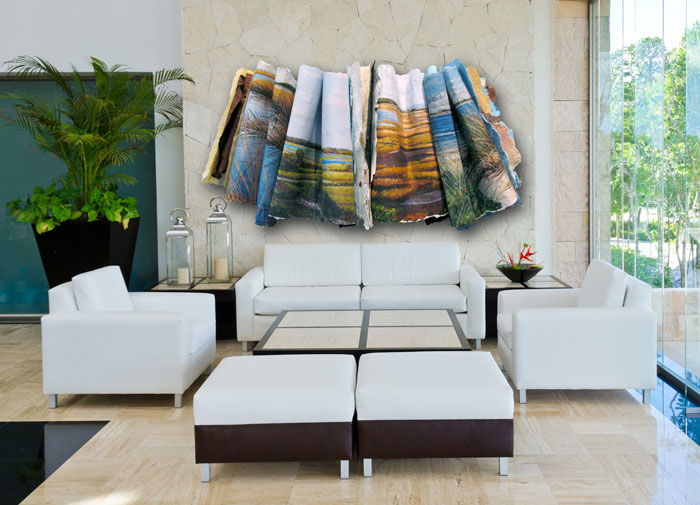 Meg Black is internationally recognized and among the few artists working with natural fibers. Her landscapes, seascapes, New England scenes and garden views have attracted many private collectors, corporations and members of the healthcare industry. In this article she explains her unique artistic vision and insight about creating art for healthcare. We are delighted to share her exquisite art work and vast knowledge with you. ~ Renée Phillips
As an artist and art historian I find inspiration in historical works of art and I use that inspiration in my own work. In this way, I connect my ideas to those of the great artists that have come down to us through the ages. Because the subject of my work is most often related to natural environments, I study how artists have historically recorded nature, and I consider these approaches in my own designs. When considering nature, I do not try to copy the natural world as I see it but, rather, as I feel it.
Encountering new environments is a kinesthetic (multi-sensory) experience that includes sight, sound, smell, and touch. I feel particularly connected to environments in which the unfolding landscape is replete with light, shadow, color, texture, growth and decay; where patterns and shapes created by flora, water, and cloud formations create patterns full of rhythm and texture.
When I first enter such a place, I wonder how it appears from different perspectives and what lies in the distance. The desire to explore the view from another angle urges me forward, to journey deeper into the space in order to experience it more fully.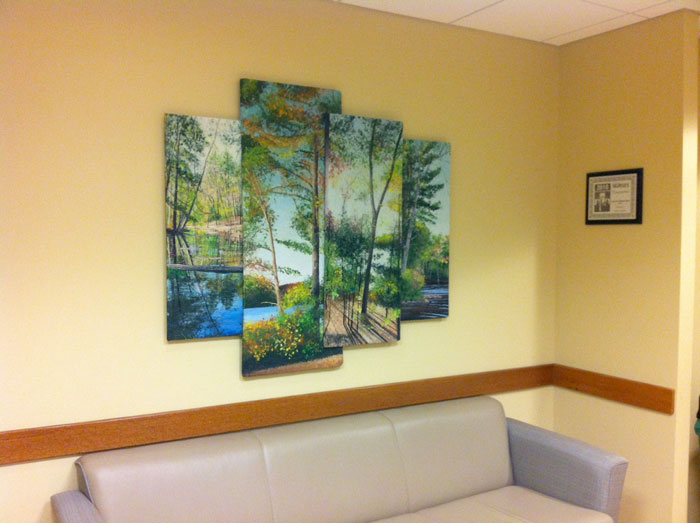 My goal as an artist, then, is to re-create the feeling of the original experience in my work in order to share it with the viewer. This is how I understand the aesthetic experience: a way in which the artist communicates their understanding of experience with their viewers in order to share its impact. This approach works well when designing art for Health Care Facilities. Images of nature enable us to transform, experience and connect to other realms. By mirroring the feeling of nature in my work, I am able to bring comfort to the patients, visitors, and staff who use Health Care Facilities.
I use abaca (material used for nautical ropes due to its inherent strength), and flax (due to its longevity and smooth surface) to create my work. Working with this medium is, like the original encounter with nature, a kinesthetic and multi-sensory experience. Unlike commercially made graphic materials—whose color, size, weight, and surface characteristics have been predetermined—abaca and flax allow me to re-create the hues, shapes, and textures of the natural world in any size, thickness, and surface texture that I desire.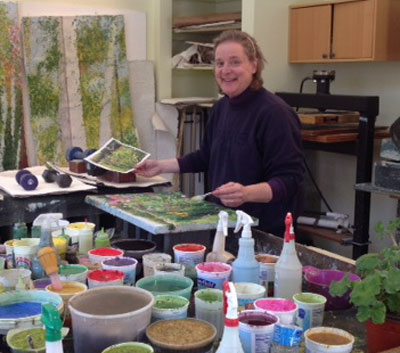 Exploring nature and working with abaca and flax are both multi-sensory experiences, full of examination and rich in discovery. Translating nature into a work of art deepens my understanding of the original encounter. On completing the work, I consider its level of success—or degree of harmony—by evaluating how closely it resembles what I had envisioned initially and how closely it recaptures the excitement and emotions of the original experience.
Sharing this experience with the users of Health Care facilities enables me to provide the soothing, transformative and emotional connections that nature provides us, a necessary component to patients, staff, and visitors alike. This is how I connect the Kinesthetic with the Aesthetic in my artwork.
Visit Meg Black's website www.megblack.com
PLEASE SHARE
by