Anne Frank proclaimed: "How wonderful it is that nobody need wait a single moment before starting to improve the world." I feel blessed to know many talented artists from around the world who speak out as advocates for individuals with special needs; volunteer to teach art as an instrument for healing; serve as catalysts for social transformation; launch programs to help humanity; and donate their art, time and sometimes their entire careers, to worthy causes. One of the reasons why this website was created is to share their art and stories with you.
If you look up the definition of altruism in the dictionary you may imagine the following artists there. They use Art in different ways as powerful instruments to serve others and make a positive difference in the world.
Kimberly Forness Wilson http://www.kimberlyfornesswilson.com is a multi-media, award-winning healing artist who presents numerous art and healing workshops for people in recovery, individuals with mental challenges, children with special needs and at-risk youth. Designed for children and adults of all ages, from different backgrounds, the classes teach others, "how to tap into the creative force which is within all of us." She emphasizes, "There is a rich part of our artist community that remains unseen due to the challenges one must deal with that accompany mental illness. All these people need are materials and opportunity and the rich treasures of this group are readily and at last seen."
Mary Lou Dauray http://www.maryloudauray.com has devoted her artistic talent to topics centering on global warming and climate disruption. As she travels around the world she discovers subjects, such as her highly acclaimed series of watercolors and oil paintings of icebergs and melting glaciers that were inspired by a trip to Iceland. Her series of 19 mixed media paintings entitled "Faces" began after a very intense and difficult visit to Holocaust sites in Eastern Europe. Currently, she is working on a series about the use of coal and its devastating effects. Mary Lou Dauray is one of The Healing Power of ART & ARTISTS Writers and Associates. You can also read an article about her on this website.
Dana Klein www.photographybydana.com/ created two photographs 'Hope' and 'Rebirth' are part of an annual project and growing collection called "Project SHINE", which is aimed at highlighting and empowering breast cancer survivors. The artist states, "I have combined my love for art and passion for photography to create storytelling images with uplifting messages of hope, strength and resilience.   My work features breast cancer survivors and the important message they want to embrace and share with others."
New York photographer Andrea Reese http://www.andreareesephotography.com/, says, "I am privileged to uplift people as a portrait photographer and I love using my photography to support others and raise awareness about important causes." She has photographed stray cats in Brooklyn to bring attention to the public about funds being cut from a spay/neuter program; a walk demonstration across the Brooklyn Bridge hosted by the What Better Looks Like '100,000 Voices' project to bring awareness to sexual violence in the Congo; and lesbian couples, "to highlight their deep connection that often gets lost amid the more sexualized images so frequently in the media." One of her projects is "People and their Senior Pets", a series of poignant photos of women holding their very elderly pets at the end of their lives.
John Paul Thornton http://www.johnpaulthornton.com/ is the author of Art and Courage Stories to Inspire the Artist-Warrior Within. This fantastic book which can be ordered from his website. Thornton has also staged powerful exhibitions and launched significant art projects from such diverse places as Tibetan refugee settlements in Nepal to the historic steps of the Lincoln Memorial in Washington, D.C. – all designed with a purpose: "To reflect the vitality and strength of the human spirit."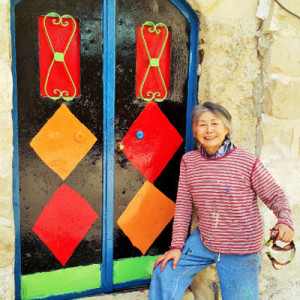 Lily Yeh proves that art has the power to transform, in a positive way, people and places that have been destroyed, decimated and are filled with sorrow.  Through the Barefoot Artists Organization which she founded in 2002, Ms. Yeh travels all over the world and tirelessly brings together people who live in such despairing environments. Read this article about her by Mary Lou Dauray.
If we look around us we will discover many more extraordinary artists to whom we can give our gratitude for the inspiration and hope they provide. Their acts of compassion and generosity serve as beacons of light and love and lead the way for others to follow their actions.
PLEASE SHARE
by