The Arts Council of Hillsborough County "FIVE by FIVE" Exhibition
The Arts Council of Hillsborough County is presenting its annual "FIVE by FIVE" exhibition which will feature original 5 inch x 5 inch art. The exhibition is open to any visual artist 18 years and older worldwide.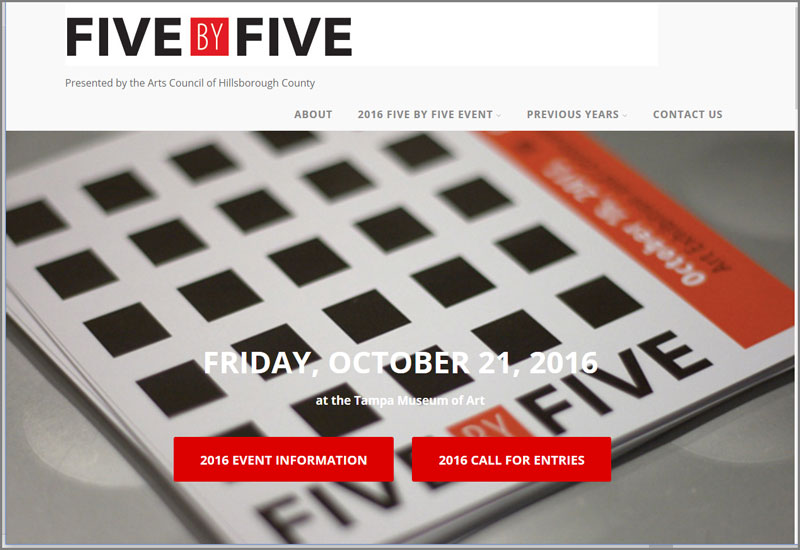 This Call For Artists is for A Good Cause
Professional and emerging Artists are invited to donate their works to the Arts Council of Hillsborough County, in Tampa, Florida. Proceeds will benefit individual artists' programs presented by the organization. The "FIVE by FIVE" art exhibition was created as a way to raise funds for artist grants and programs offered by the Arts Council.
All artwork is exhibited anonymously and sold for $25 each. Buyers choose the work they purchase based on its appeal only and not whether the artist is known or unknown since all work is shown anonymously.
All submissions must be original in content, concept, and design and not submitted to the "FIVE by FIVE" exhibition previously. 2D or 3D work in any medium, abstract or representational, is accepted. Artwork must be suitable for all audiences. Art may be mailed or delivered in person. Unsold work is not returned to the artist except by prior arrangement.
Artists must sign their work only on the back so that signatures are not seen when displayed. A roster of participating artists and a preview of works available for sale during the event will be posted on FivebyFiveTampaBay.com before the event which will be held on October 21, 2016, 8 – 11 pm at the Tampa Museum of Art.
Benefits for Emerging Artists
This exhibition would benefit emerging artists who would be pleased to know their donations will help other artists. For artists who live in the Tampa Bay area and can attend the event it offers them exhibition experience and the opportunity to network. The attendance for this annual event has grown steadily with nearly 900 guests attending in 2015.
Nearly 600 pieces of art and performances from artists were featured last year.
To view art work from "FIVE by FIVE" 2015 visit this page.
For additional information about how to enter visit the FIVE by FIVE website.
by