"Embedded Messages" is a multi-media, multi-medium installation of artwork by eight women artists: Sally Edelstein; Justyne Fischer; Karen Gutfreund; Penny Mateer; Sinan Revell; Debra Thompson; Linda Vallejo; and Margi Weir. Collectively, they ask the viewer what is happening with America, can we still identify the American dream and if so, who does the dream apply to?  An important event taking place in Chicago, Illinois, the "Embedded Messages" exhibition examines the current polarized political climate in regards to social justice.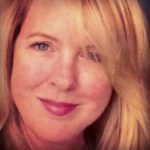 This article is by Karen Gutfreund, an artist and the curator of this exhibition. Karen is an activist curator and has produced over 25 national exhibitions in the United States. She is driven to create exhibitions with messages to create positive change in the world. She is also on the awards committee of "HERStory", an exhibition of women artists presented by Manhattan Arts International.
The exhibition that examines social and political issues takes place at The Art Center, 1957 Sheridan Rd, Highland Park, Illinois, March 3 – April 3, 2017. An opening reception will be held Friday, March 3rd. 6:30 – 8:30 p.m.  You can view the exhibition online: https://issuu.com/karengutfreund.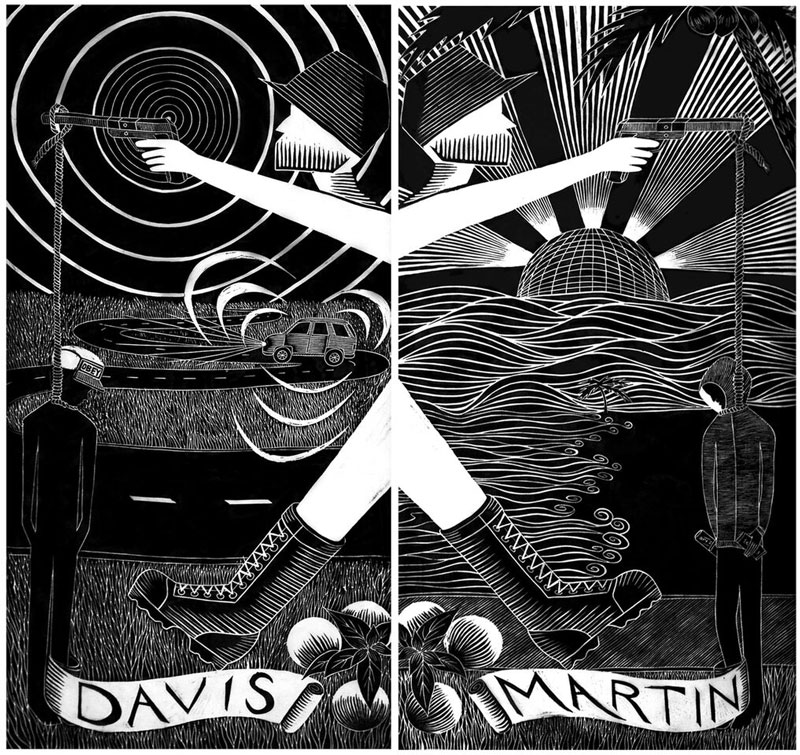 Justyne Fischer's striking and iconic imagery reads as a poetic declaration that compels the viewer to reflect on a series of unfortunate events some may choose to forget. Each woodcut serves as a memorial to respectfully honor and remember the human being beyond a one day headline.
In today's complicated sociopolitical climate, representing both positive and negative aspects of American cultural and economic influence, this exhibition casts a critical eye and is both a reflection and a statement about issues and events on domestic and international affairs focusing on racism, sexism, classicism, sexuality, gender identity, immigration, poverty, the environment, violence, and the ongoing wars.
The work, unified by topic and with "embedded messages" running throughout, invites the viewer to look, learn and discuss the inherent meanings. All is not as it appears on the surface. The messages are delivered with irony, humor, pain, defiance and strength, to reflect not only the artist's diverse personal views and opinions, but to raise critical consciousness to various issues while conveying an underlying philosophy of collective responsibility.
To create solutions to problems, we as a collective society need to find common ground to discuss and then move on to solving issues that affects the population at large.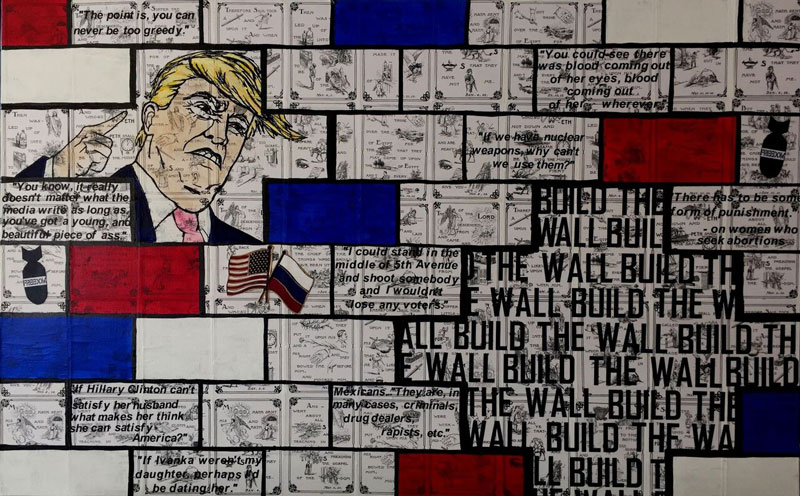 Karen Gutfreund's work examines the juxtaposition of religious mantras and the resulting consequences of war and perceptions of freedom to obtain power over these resources. The layers of images with mixed meanings and text, often biblical with inferred morality, are meant to provoke the viewer's visceral senses to evoke change.
This multi-cultural group of artists addresses a number of hot-button issues, particularly relevant to a divided nation. The subject matter of the works are artfully broached either directly or indirectly and provide historical reference, intellectual consideration on topics relevant to all citizens.
Many of the works give voice to the issues of people often "less heard" and address culture, race and gender issues, in addition to more generalized social-political issues such as gun violence and control, the culture of violence, woman's rights, economic disparity, institutionalization of food, and social issues including domestic violence, immigration, human trafficking, and LGBTQ rights as well as civil rights and social justice.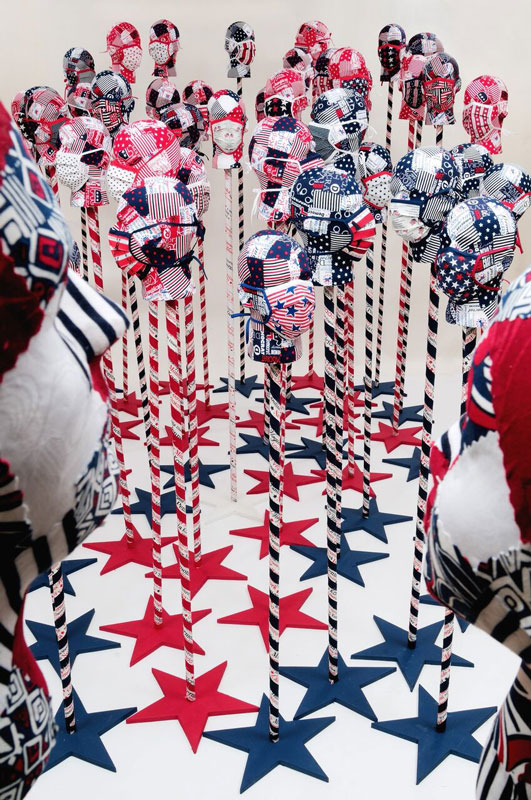 Penny Mateer's work is rooted in the feminine traditions of quilting and embroidery. Drawing from this rich and shared history of making decorative or functional objects intended to provide warmth and comfort, she uses fiber art as a platform to present ideas about current issues.
Polarized political leaders and institutions, traditional news media conforming to an entertainment paradigm, social media as a biased information format, and an economically divided nation all contrive to drive this collection of art to addresses social-political in an effort to stimulate dialog on truth, justice and the American Way.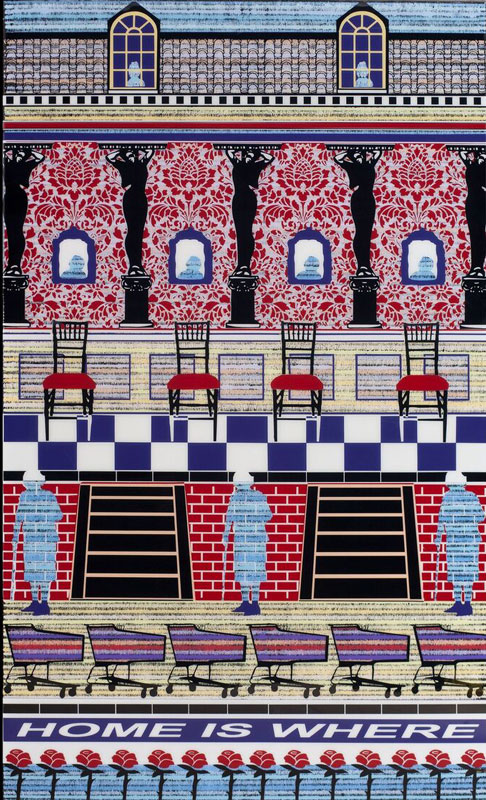 Margi Weir's work involves a response to, and engagement with, the world around her. She repeats images that are stitched together visually in order to make an appealing pattern, often resulting in tapestry-like, spatially flattened compositions.
"Embedded Messages" has the privilege of showing this body of work to the area of Chicago, a city politically and culturally formed by a history awash with political activism, urban and community struggles. It is all the more relevant as the Chicago area embraces and faces challenges including but not limited to homelessness, racial marginalization, gentrification, income disparity and urban growth. crime, gun violence, police brutality, education and economic inequality, along with political disenfranchise.
The works in this exhibition speak volumes and question the traditional boundaries and hierarchies of culture as represented by those in power. Although each artist's specific approach and goals are distinct, their works, especially experienced together will incite viewers to become participants as they explore the embedded messages that stimulate critical thinking and open their pathway to potential answers and solutions.
PLEASE COMMENT AND SHARE
by