In a previous article "Giving Tuesday Is An Inspirational Global Movement" I presented the history of the movement and offered some suggestions about organizations that are contributing to promote positive change around the world. Today, I offer "Happy Giving Tuesday! You Can Contribute to Bring Positive Change".  In this post, learn about the Global Fund For Women and Youth Art For Healing. These organizations were inspired by compassion and selected from our numerous articles about world changers. Also visit our comprehensive directory on this website, which contains more than 100 organizations that are helping to heal individuals, society and the environment through art programs.
Global Fund For Women
"Winning rights for women is about more than giving opportunities to any individual woman or girl; it is also about changing how countries and communities work. It involves changing laws and policies, winning hearts and minds, and investing in strong women's organizations and movements." ~ Global Fund For Women
The Global Fund for Women believes in the power of women to change their own lives, their communities, and the world for the better. It is calling for you to become a champion for women's human rights. Join the organization's commitment to working tirelessly to help women and girls have the equal human rights they're entitled to.
This organization needs people to join its community of world changers to help them get resources and attention to where they're most critically needed. You can participate in the endeavor to  empower grass-roots movements that will bring imperative and lasting change for women around the world. You can run a campaign, help to raise funds, serve on the voluntary group of advisors, and/or help to get the word out via social media.
#DefendHer, presented by Global Fund for Women, JASS (Just Associates), and MADRE, is a  campaign that highlights 14 incredible women human rights defenders and groups around the world. They have been chosen for their courage and for striving "to end violence against women; advance LGBTQI rights; protect the planet and the rights of indigenous communities; and more." Learn more about this campaign here.
One of the defenders is María María Acha-Kutscher, a feminist visual artist whose artwork tells women's stories. Her various projects include her illustrations for the #DefendHer campaign,
To find ways you can help Global Fund For Women visit this page.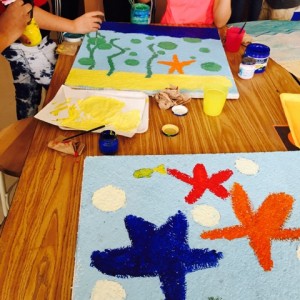 Youth Art For Healing
"There can be no keener revelation of a society's soul than the way in which it treats its children." ~ Nelson Mandela
Youth Art For Healing is a non-profit organization founded by Jan Papirmeister in 2012. As the Executive Director, she is dedicated to working collaboratively with schools, hospitals and other healthcare organizations "to bring works of art created by youth into healthcare environments to provide a sense of comfort, inspiration and healing for patients and their loved ones, and healthcare professionals."
Papirmeister, who is also an artist, is one of our favorite world changers. She has a background in nursing that spans several specialties including pediatrics, hospice, home health, school health and cancer care navigation.She has always been a person endowed with extraordinary empathy and spirit of generosity.
Her organization Youth Art For Healing, which is based in Bethesda, MD, provides opportunities for students "to learn about the nature of healing art, the power of art to heal, how to follow guidelines for healing art, the role of the arts in healthcare, and the value of building and strengthening community connections and spirit."
As they share their talent with those in need students become empowered in the realization that they can make a difference.
Youth Art For Healing depends on the generosity and support of individuals, corporations, foundations, healthcare organizations and local businesses to carry out its mission. There are several ways you can help support Youth Art For Healing projects.
Learn more at http://www.youthartforhealing.org
PLEASE SHARE
by