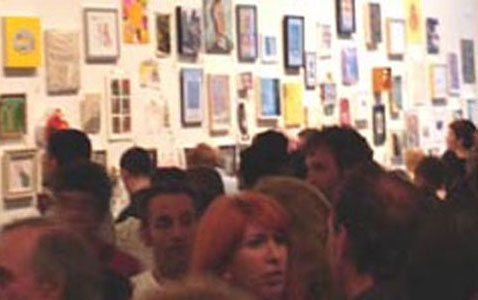 If you are an artist who is following this website you may be seeking unique, meaningful opportunities to exhibit your art to like-minded people. Not all calls for artists offer a high level of benefits to you. Others only select a few artists, so the chances of being selected are a small percentage. We search for those opportunities with long-term credibility and important issues and themes. Here, you will find opportunities for artists in public art, nonprofit foundations, grants, residencies, charity endeavors, and more. We will post opportunities on a regular basis so please subscribe to our website to receive receive notices about our articles, essays, resources, and opportunities for artists.
Lilac Art Series
Entry deadline: March 30. Thanks to artist Marilyn Green who told us about an opportunity for you to submit art for a possible exhibition in NYC, NY, sponsored by the Lilac Preservation Project. The Lilac Arts Series is a contemporary art exhibition aboard the historic museum ship Lilac berthed at Hudson River Park's Pier 25 in NYC, NY. The series will be in three parts, from May – August, each exploring a different theme drawn from the Lilac's story. There is no fee to enter.  All art forms will be considered, including painting, photography, sculpture, music, performance art, dance and media art. Accepted artists will be featured (a) on the Lilac Arts Series' website, including the artist's biography and link to the artist's own website, (b) in promotional materials and (c) in a published catalogue. For more information about how to enter visit the Lilac Art Series website www.lilacarts.org
Art Of Heroism, Human Dignity and Injustice
Entry deadline: March 31. Manual River Ortiz Foundation grant programs give photographers and filmmakers from around the world the opportunity to share the pivotal and emotional stories that impact generations. Submit original work covering disenfranchised communities. Wanted: Stories of heroism, human dignity and injustice. From famine to disease, human suffering to the politics that threaten the lives of people all over the world. Winner will be exhibited in Arles, France. There is no entry fee. Learn more.
"The Art Connection" Fundraiser
Entry deadline March 31.  The mission of The Art Commission is to enrich and empower under-served communities by expanding access to original works of visual art. It is seeking donated artwork. Twelve works will be selected to be included in its fundraiser in May. Juror: Arlette Kayafas, Gallery Kayafas Director and James Hull, Interim Director of Exhibitions, School of Visual Arts, Boston University. Learn more.
"The Healing Power of Art" Online Exhibition
Entry deadline: April 12. Manhattan Arts International has announced its 10th "The Healing Power of Art" juried competition. A broad and varied selection of art on the subject of healing will be presented. More than 25 artists will be selected for this online exhibition beginning April 30, 2015.  Learn more.
Gifts of Art 2015-16 Call for Entries
Exhibit Proposals deadline: May 15, 2015. As one of the first and most comprehensive arts-in-healthcare programs nationwide, Gifts of Art brings the world of art & music to the University of Michigan Health System. We seek both solo exhibits by individual artists and group exhibits by arts organizations. Group shows must have a single contact person. Seeking 2-D wall mounted art and 3-D works in display cases. Learn more.
Healing Arts Gallery
No deadline. Healing Arts Gallery at Monadnock Community Hospital in Peterborough, New Hampshire, is: "A convergence of Medicine and the Arts to provide sustenance for body, mind and spirit, affecting all levels of healing in the hospital environs." Artists interested in submitting works of art "that support a therapeutic and restorative experience for viewers in a healthcare setting" may apply. Learn more.
by