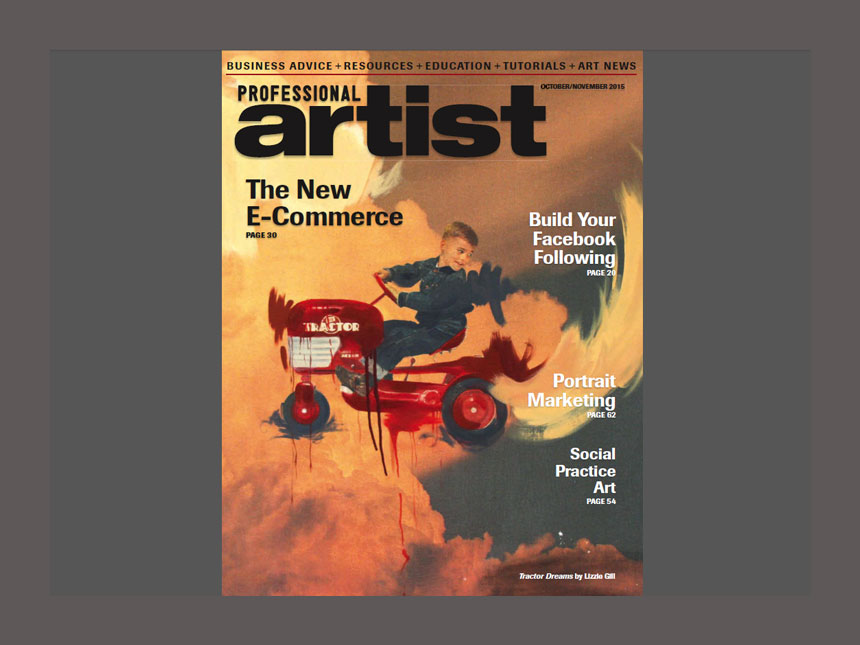 Look no further than this website for incredible opportunities for artists who are seeking publicity and promotion, exhibitions, and ways to share your art with others. In this post you'll find opportunities being offered by Professional Artist magazine, Moore Women Artists and Manhattan Arts International.
Professional Artist Magazine – Artist Spotlight
Professional Artist magazine is dedicated to providing independent visual artists with practical business advice on subjects such as art marketing, art law, portfolio development, exhibition presentation, communication skills and sales techniques, as well as articles to help artists feel encouraged and motivated. It also selects one artist bimonthly to be featured in the Artist Spotlight section of the magazine. The competition is open to all artists 18 and older who "like" Professional Artist on Facebook, follow it on Twitter, or participate in its LinkedIn discussion group. The winning artists will receive a two-page interview profile and one or two images of his or her artwork printed in the magazine. The winner and finalists will be featured in their own Artist Spotlight gallery on www.ProfessionalArtistMag.com. There is no entry fee. Learn more.

Moore Women Artists is Seeking Contributors – Share Your Ideas
Ongoing. The Moore Women Artists website, hosted by Moore College of Art & Design, invites artists to share their ideas, issues and successes and learn more about the heritage of women artists. "Articles and blog posts by guests contributors will be the source and impetus for starting an online discussion about what women visual artists are experiencing today in terms of creating their work, their careers and the issues they are facing. Delving into the heritage of women artists and the strides they've made over the years will also be addressed as well as where they have come and what the future may hold." Contributors who provide content will have a contributor's page with their photo, bio, link to their artist site, and more. Learn more.
Manhattan Arts International Call For Artists – Theme Exhibitions
The Manhattan Arts International online gallery has a mission to promote artistic excellence in all styles and mediums by artists worldwide. It discovers, rewards, and promotes outstanding artists in  curated art programs and online exhibitions. Manhattan Arts International is a trusted and reliable resource for art buyers and art professionals. Each online exhibition features 50 or more artists who receive widespread promotion, publicity and Featured Artist Awards.    Learn more.
PLEASE SHARE
by