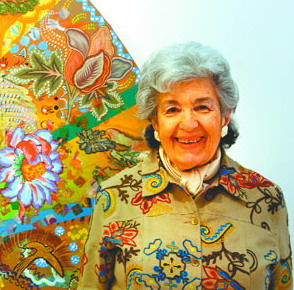 In Memory of Miriam Shapiro…
This week we share opportunities for women artists. We dedicate this post in memory of Miriam Shapiro, the much admired and beloved painter, sculptor, and printmaker who helped launch the feminist art movement in the 1970s. She held a beacon of light for the artists of her time and has continued to inspire generations of artists. Shapiro died on June 20 at age 91 after a long illness. We express our heartfelt condolences to her family and loved ones. She was one of a kind.
The notices this week include those from three outstanding sources: Women As Witness, Moore Women Artists, and WEAD. They are all highly regarded organizations and worth your while to take advantage of the benefits they offer artists. Try them out and let us know what happens!
"Women as Witness" – An Exhibition to Encourage Social Change
The guiding premise of "Women as Witness" is that "the photograph has the power to insert memories that are all too often overlooked, into the context of resistance." This project is seeking photographs and photography-based two-dimensional mixed-media art taken by women of all ages, "whose form and/or content addresses how they are using their craft to document moments of resistance, resilience, and creative survival in order to encourage social change and propel us all toward progress."
Deadline: July 15, 2015
"Women as Witness" opens September 3, 2015.  Entries must be emailed by July 15, 2015, 5PM EST.  There is no fee to enter. To learn more about how to enter visit the Women As Witness website https://womenaswitness.wordpress.com/
**********************************************
Moore Women Artists Invites You To Share Your Voice
Hosted by Moore College of Art & Design, this website is for women artists and designers to share their ideas, issues and successes and learn more about the heritage of women artists. They welcome articles and blog posts by guests contributors – artists, designers, curators, historians, thought-leaders in the industry and others. This presents an online discussion about what women visual artists are experiencing today in terms of creating their work, their careers and the issues they are facing. "Delving into the heritage of women artists and the strides they've made over the years will also be addressed as well as where they have come and what the future may hold."
Learn more in this article by Roy A. Wilber about Moore Women Artists on this website.
Visit the Moore Women Artists website http://moorewomenartists.org
*******************************************
Women Environmental Artists Directory (WEAD) ~ For Environmental Artists
In 1996 Jo Hanson, Susan Leibovitz Steinman and Estelle Akamine created Women Environmental Artists Directory (WEAD) in response to increasing requests for artist referrals and for designing ecoart exhibits and programs.
Rather than create one static program, they developed a programming tool that others could use to develop their own programs. "Focusing on women's unique perspectives we collaborate internationally to further the field and understanding of ecological and social justice art."
The purpose of WEAD is "To provide information regarding the ecoart and social justice art fields to artists, curators, writers, art and public art administrators, educators in art and ecology, cross-disciplinary professionals and others. To facilitate international networking among artists working with ecological and social justice issues. To further the fields of, and the understanding of environmental and social justice art."
If you are a women artist who creates ecoart learn more about joining WEAD Artists on its website http://weadartists.org
PLEASE SHARE
by