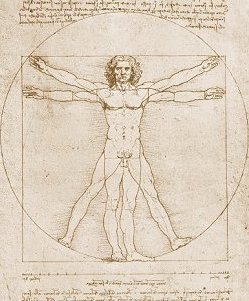 Whatever you name it — art notebooking, art sketchbooking or art journaling — you may have experienced firsthand how it is one of the most essential and powerful tools to enhance the creativity and expand the mind. Throughout centuries, in their drawings, texts, and observations, artists have been using notebooking to resolve the relationship between creativity and thinking on paper. As our positive art news this week I remind you about this powerful process.
In a previous article about art journaling, I referred to Leonardo da Vinci, one of the most remarkable geniuses throughout history, and his art journals and notebooks.  To satisfy his unlimited curiosity to explore the world around him da Vinci kept an estimated number of 100 notebooks. In these notebooks he framed questions, recorded his observations, developed his theories, and documented the experiments he used to test them. It has been recorded that seven thousand pages exist today from his journals that reveal his myriad ideas, impressions, and observations — from drawings and paintings to philosophical musings, prophecies and treatises.
Da Vinci represents the ideal of having an innovative mind as an engineer, inventor, scientist and artist. One of da Vinci's major notebooks, the "Codex Leicester" reveals how he examined the properties of water to investigate larger questions that range from the internal workings of the planet to the composition of the moon. Imagine several centuries ago da Vinci used this intricate process of journaling to gain a greater understanding of the earth and celestial bodies.
So, it is a rare treat to view his notebooks in the context of how a genius like da Vinci might visualize ideas and processes and record their creative processes.
Major Exhibition Reveals The Creative Minds of Visionaries
"Leonardo da Vinci, the Codex Leicester, and the Creative Mind," is an exhibition being presented at the Minneapolis Institute of Arts' Target Galleries. Through August 30, 2015, this show at MIA offers rare insights into one of history's greatest renaissance thinkers. It also reveals how his innovative mental processes are shared by some of today's most visionary artists, engineers, and designers. By bringing together da Vinci's observations with contemporary works by artists and designers this outstanding exhibition explores how the creative process unfolds.
The works of art by such visionaries as Bill Viola and his dynamic 2004 video and sound installation, "The Raft", along with one of his planning notebooks are included. Also works by Margaret and Christine Wertheim of the Institute For Figuring, Scott Olson, and others, are presented.
How The Codex Leicester Came About
According to the information shared on the MIA website the word "codex" means a bound manuscript, created by folding a stack of pages down the middle and sewing a binding along the fold. It was the earliest form of a book. When da Vinci wrote the Codex Leicester (pronounced "Lester") around 1508-1510 he amassed  72 pages comprised of 18 double-page, double-sided sheets. Da Vinci worked on one individual sheet at a time, filling its four pages in a backwards sequence. The last page he filled, confusingly, became the first page the reader would encounter if the Codex was read in the usual manner.
After da Vinci's death in 1519, others reorganized his sheets and bound them together, and created the Codex Leicester. It has since been restored to its unbound state and proper order, the manner in which da Vinci originally created it.
After "Leonardo da Vinci, the Codex Leicester, and the Creative Mind" runs at MIA it will travel to the North Carolina Museum of Art from October 31, 2015 through January 17, 2016. Each museum brings its own distinct curatorial approach to Leonardo da Vinci's Codex.
Visit the Minneapolis Institute of Arts http://new.artsmia.org
PLEASE SHARE
by