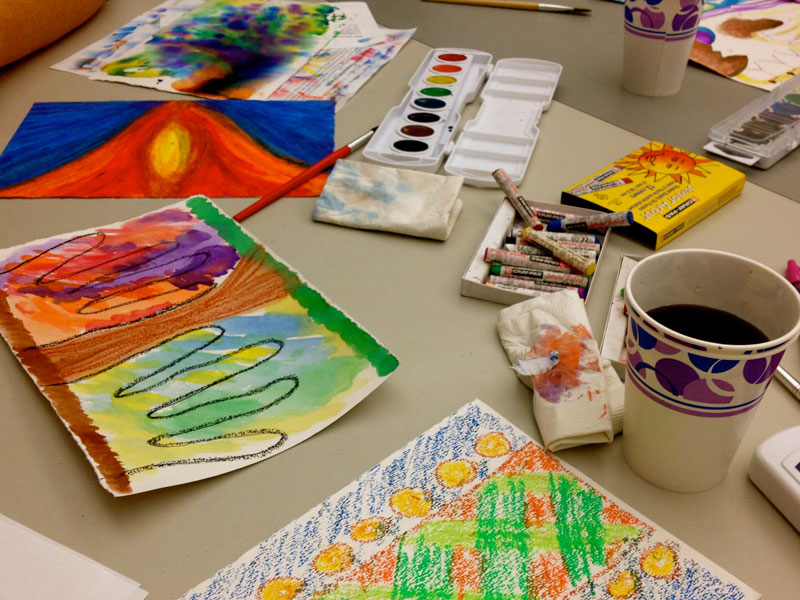 Have you noticed there is a growing number of art-making programs that serve to benefit patients and their families? As a follower of this website you have been introduced to many of them and they are among the most popular.  Today, you'll learn about two such programs that offer art workshops in hospitals and healthcare centers. One is at The Museum of Fine Arts in Boston, Massachusetts and the other is the Art and Spirituality Center at Mercy Hospital Downtown in Bakersfield, California.
One of purposes of The Healing Power of ART & ARTISTS is to emphasize the many benefits individuals derive from art and art-making including, and not limited to, the advantages of distraction, creativity, and learning.
To find out about many other art and healing programs please visit our Resource Directory where we provide more than 100 nonprofits dedicated to improving society through art initiatives. Also, spend quality time browsing The Healing Power of ART Gallery. And, please subscribe!
MFA Artful Healing
The Museum of Fine Arts in Boston (MFA) offers free programs in a group setting or bedside in patients' rooms. Children, young adults, and their families in Boston-area hospitals and healthcare centers may participate in art-making workshops that begin with a slideshow and discussion of images from the MFA's world-renowned collection, chosen to focus around a particular theme ranging from animals to jewelry. Participants then make art in a hands-on activity related to what they have seen. They explore such activities from Chinese brush painting to Styrofoam printmaking, wire sculptures, painting on canvas, sculpting with clay, and embossing foil pendants.
The MFA Artful Healing instructors are trained and experienced art educators who collaborate closely with hospital staff and will adapt to any specific needs. Kudos to the participating artists who are listed on the MFA website: Dana DiNatale, Linda Hoetink, Pablo Friedmann, Sarah Arcotta, and Robin DeSantis.
The MFA currently provides off-site workshops at Boston Children's Hospital, Massachusetts General Hospital, and Dana-Farber Cancer Institute. Those who are receiving medical treatment can enjoy a fun and creative experience in these workshops.
Learn more about MFA Artful Healing.
Mercy Hospital Downtown – Art and Spirituality Center
At Mercy Hospital Downtown, in Bakersfield, California, the Art and Spirituality Center offers programs based on a belief, "that the process of experiencing art promotes health and well-being, aiding in physical, mental, and emotional recovery, including relieving anxiety and decreasing the perception of pain."
It is devoted to giving patients, families, and community members an opportunity to experience the healing benefits that may come from creative expression — art-making, laughter, writing, music and other creative experiences. There is a wide range of art and craft classes available including watercolor, jewelry-making, pen and ink, sculpture, crocheting and more.
The Center is open to patient members, community members, and caregivers. It is also a place for those who just want to come into a quiet and reflective space to read, pray or have a quiet conversation.
All materials are free of charge and the programs are led by experienced facilitators and are open to the public.
Learn more about the workshops at https://www.dignityhealth.org/mercy-bakersfield/classes-and-events/art-for-healing-classes
An Organization That Brings Art to Patients
On a similar topic, there are many organizations that bring art to hospitals in order to deliver a sense of peace, comfort and a positive alternative to the traditional clinical hospital atmosphere.
Youth Art For Healing
Founded by Jan Papirmeister, a registered nurse and artist,  Youth Art For Healing is a non-profit organization in Bethesda, MD, whose mission is "to bring works of art created by youth into healthcare environments to provide a sense of comfort, inspiration and healing for patients and their loved ones, and healthcare professionals."
Papirmeister was awarded a Society for the Arts in Healthcare consultancy grant to bring art carts to patients and their families and staff on the oncology unit. She is also the recipient of two SCORE Awards in recognition for her humanitarian efforts through Youth Art For Healing.
Read the article about Youth Art For Healing.
PLEASE SHARE
by