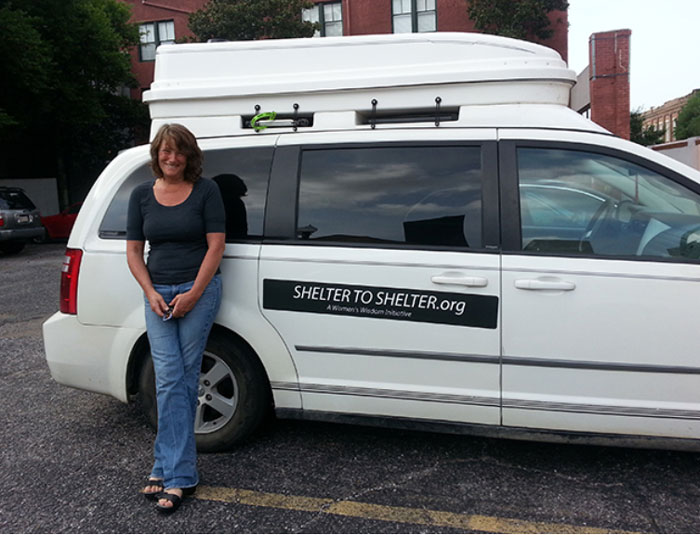 By Caroline Lovell
Two artists, a van full of art supplies and the initiative to support gender equality through art. Each year the Women's Wisdom Initiative's program Shelter to Shelter spends 2-5 weeks traveling to isolated communities, shelters and aid organizations. Shelter to Shelter is an opportunity to raise awareness about the pervasive consequences of gender-based violence. At the same time, we hope to give voice and connection to survivors through the healing arts and to celebrate their resiliency and strength.
After our successful 8,000 mile trip across the country in 2013, we have once again set out on the road in our "mobile art booth". In 2013 we traveled across the United States and made every one of our intended goals. We showed up to each shelter on time and somedays drove for 4 hours, led a workshop for 4 hours and got back in the car and drove another 4 hours until we found a place to sleep. And we never ran out of gas!
Shelter to Shelter 2015 Helps Refugees
The focus for our 2015 Shelter to Shelter trip is the international refugee and immigrant community of Northern California and the Northwestern United States. Our goal is to work in unison with local refugee service organizations to provide our free, therapeutic creative art workshop, Traveling Postcards, to refugees as a means of support and healing. After Texas, California receives the second highest influx of refugees to any US state; refugees in California come primarily from Iraq, Iran, Burma, and Somalia.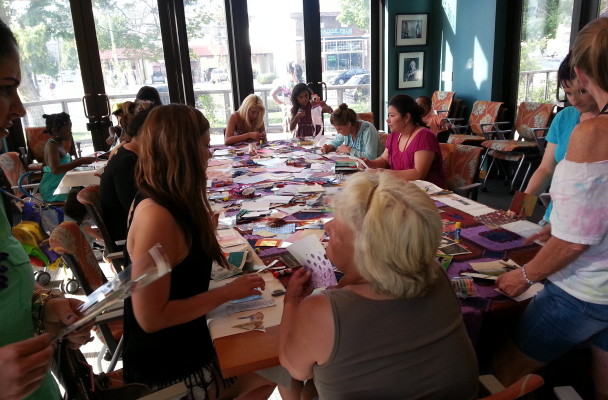 Traveling Postcards Workshops Deliver Hope
Traveling Postcards offers compassionate listening, hope, visibility and connection.  We bring our workshops to domestic violence shelters, rape crises centers, college campuses, refugee centers, community centers, homes and church basements. Wherever there is a need. Each woman we meet is given an opportunity to share her resiliency through art and words and know that her wisdom is valued and needed. There is remarkable power in a woman coming to understand that her abuse is not normal and that, in spite of the violence, she is a survivor and deserves equality and justice.
Postcards are hand delivered to individuals and communities all over the world, bringing connection, hope, visibility and voice to women and girls whose lives have suffered from isolation, violence or repression. Each card is a piece of art in my mind. I imagined women or girls who received cards might keep them in a place in her home, in a drawer, or on a shelf that would always remind her that she is cared for, and that she is a part of a much larger global community.
The Many Ways Art Helps
I feel that art is able to translate beyond language, and communicate a much larger vision of personal connection. Helping women to reconnect to their hearts and to find the strength to speak their truth is where healing and transformation can occur, and is the central focus of our work. We find the creative arts to be an invaluable tool in this process. Creativity is a bridge to our authentic wisdom and to our ability to heal ourselves. It is available to everyone. It is a universal language that cannot be restricted due to ethnicity, education, or economics.
Art provides a much needed opportunity to see that we are not limited by our immediate circumstances and that by accessing and seeing our unique wisdom, we can choose to be fully expressed in our own communities and create a better life for ourselves and for those around us. I see art as a healing tool not to "fix" someone but to engage with them clearly and without judgment as they walk in their own process.
Visit the Shelter to Shelter website for more information and  to see pictures from past adventures.
PLEASE SHARE
by