Social Justice: It Happens to One, It Happens to All is an important international exhibition curated by Karen Gutfreund and Sherri Cornett of Gutfreund Cornett Art. The mission of this dynamic curatorial partnership is "Changing The World Through Art".  It specializes in creating exhibitions in venues around the U.S. on themes of "'art as activism' to stimulate dialog, raise consciousness and create social change."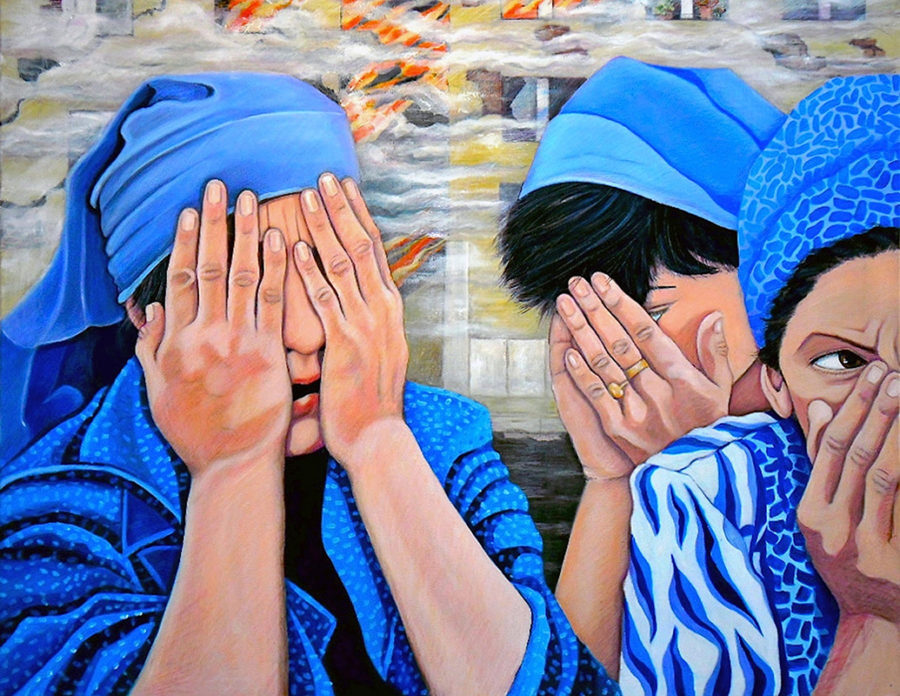 About The Social Justice Art Exhibition
The Social Justice art exhibition focuses on themes "that examine timely subject matter being debated during this election year."
There are 43 artists featured in this exhibition. I was delighted to discover Jane Caminos is one of those artists. (You may remember her as winning the Featured Artist Award in Manhattan Arts International's "The Healing Power of ART 2016" online exhibition.) In addition to the 43 artists' artworks on display there is also a slideshow in this exhibition that presents the viewpoints of 46 artists.
View in person: This exhibition runs through December 11, 2016. The location is Saint Mary's College Museum of Art (Lockett Gallery, Museum Lobby and Gallery 160), 1928 Saint Mary's Road, Moraga, California. The viewing hours for the exhibition are Wednesdays through Sundays, 11:30 AM – 4:00 PM.
View online: All works of art in the Social Justice art exhibition are available to view online. Visit www.gutfreundcornettart.com/gallery-social-justice.html
Art That Empowers Social Change
As emphasized on the press release, "Poetic, direct, conceptual and gripping – these artworks can say what words cannot and are the catalyst to empower social change and encourage empathy for others and respect for social justice, fostering important dialog stimulated by provocative works."
"Art is used as weapons in the fight for human rights to shine a light on the conditions of the working class, the disparities in global wealth, power inequities, education, shelter, access to food, water and health services, disabilities, immigration issues, criminal (in)justice, women's rights, the subjugation of ethnic groups and the challenges of gender and identity in the modern world."
Excerpts from Karen Gutfreund's Statement
"Social Justice, I feel we need it now more than ever! Every time I look at my iPhone, read the paper or listen to NPR, there is one heartbreaking, disturbing or enraging story after another. When injustice happens to one, it does happen to all. How can we turn our heads and harden our hearts to the cacophony of human tragedy and suffering in the world?"
All Media That Speaks Volumes
"With the Social Justice exhibition we asked artists for work in all media that speaks to and illuminates the ongoing conversation around race, conditions of the working class, disparities in global wealth, power, education, shelter, access to food, water and health services, immigration issues, criminal (in)justice, women's rights, subjugating ethnic groups and the gender queer in the modern world."
Artwork As Weapons
"Sherri Cornett and I look to employ artwork as weapons in the fight for human rights against violence and the ongoing wars. Human rights can no longer be thought of as separate and belonging to a privileged few, but rather that these rights are all interrelated, interdependent and indivisible for all. We believe the artist's voice will help to foster these important dialogues worldwide and invite artists to add their voice."
The Power of ART
"Art can inspire change and bring people together, crossing the borders of cultures and languages. Artists challenge the norm, imagine the potential and inspire social change. For some, the United States is a true manifestation of the "American Dream", yet, for many individuals both nationally and globally, basic human and civil rights are abridged and jeopardized with a judicial system that has eroded confidence and trust, and with racism propagated through groups that have systemic power to institutionalize prejudice in the forms of laws, policies, and ideologies that exclude and oppress others."
Visit Karen Gutfreund's website at karengutfreund.com/
Excerpts from Sherri Cornett's Statement
"…Artists present us with multivariate angles from which to look at social justice issues.Some works invite us in subtly… while others present images not easily forgotten, such as Veronica Cardoso's The Girl Who Fell from the Sky / La niña que se cayo del cielo (above). They can startle us out of complacency and into questioning what we think we know."
The Power of ART Exhibitions
"The art and museum galleries give us a permissible venue to which to process and meditate on the tragedies around us and in the larger world and to acknowledge the tensions about and visceral reactions to such horrors. A place removed from the seemingly constant barrage of bad news. These works call to us to feel, to have sympathy and empathy, to recognize our own shame, guilt, fear and anxiety and, perhaps, examine where our own perceptions need tweaking."
Continuing the Conversation
"One of the main motivators for creating these kinds of exhibitions is the dialog that is engendered by the works and the communities that form in the process of developing and participating in them. Between the artworks and the viewers, between the artists and the viewers, within groups of viewers, within groups of artists. The informal comments and reactions while viewing works with strangers and the more formal "In Conversation" gathering with the artists and audience which is planned during the opening day events of this exhibition."
Transcending Polarities
"Artists have an opportunity to be part of the discourse. They are shedding light on their personal experiences with injustice or those endured by others. Viewers have the opportunity to talk about their own experience, to voice their own imperfections and reflect on those in other people and, hopefully, rediscover patience and tolerance for those imperfections as they, through this shared dialog, work together to transcend polarities and rediscover our common humanity."
Visit Sherri Cornett's website at sherricornett.com
Visit the Gutfreund Cornett website at gutfreundcornettart.com
IF YOU ENJOYED READING THIS PLEASE SHARE IT!
by