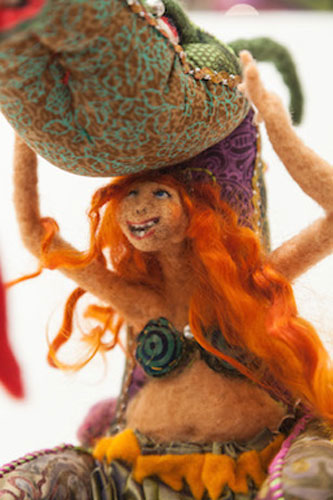 (June 10, 2015) This week's opportunities for artists is presented with a beautiful soft sculpture by Erika Cleveland, one of the many incredible artists in our Artists Directory. In this article you'll find interesting theme exhibitions to enter, ways to help others through art, a special offer for college art professors, and more. Please visit every Wednesday for a new post of unique opportunities for artists. To view previously listed opportunities for artists click here.
Calls For Entries "Earth"
Dubuque Area Arts Collective in Dubuque, Iowa, is seeking artists for its "Earth" exhibition. "Works should focus on topics related to environmental issues and/or consist of salvaged or found objects. The purpose of this exhibit is to showcase unique and contemporary perspectives on environmental topics as well as unexpected and sophisticated use of recycled and found materials." No entry fee. Learn more.
Hot Topics Exhibition
Manhattan Arts International is accepting submissions from artists worldwide for "Hot Topics", an online exhibition Aug. 15 – Oct. 15, 2015 that expresses Hot Topics in nature, human nature, society and the planet. All 2-and 3-D art in all styles and mediums: painting, sculpture, work on paper, photography, digital art, and mixed media. Co-curators: James Bacchi, co-owner ArtHaus Gallery and Renee Phillips, Director, Manhattan Arts International. 30 Artists will be exhibited and will receive extensive exposure and promotion. Cash and other special awards. Entry Deadline: Aug. 2, 2015. Learn more.
Do You Create Bereavement Art?
Bereavement Artists was founded in 2011, by Colorado artists Teresa Dunwell, Gina Klawitter and Anita Larson, to fill a need for the bereaved community to have a comprehensive, easy-to find, resource of bereavement art services. On its website you'll find artists who specialize in bereavement art. You can become a lifetime member for only $25. Membership requirements include: You create original, custom artwork specifically for those who have suffered a loss; You must have an independent art business website; Your website must reflect your bereavement art experience, with services and examples of bereavement/memorial art. All applications are subject to approval. Learn more.
Promote Art Therapy
Has art therapy helped you? If so, you can help others by sharing your experience, art work, stories, words or poetry with the readers of Art Therapy www.arttherapyblog.com/ a website with a wealth of information "About Art Therapy", "Benefits of Art Therapy"; "What is Art Therapy?"; "Who Uses Art Therapy?"; "Resources"; and how to "Help Promote Art Therapy."  Learn more.
Opportunity For College Art Professors Only
Student Outreach Program 2015: If you are a college art professor Professional Artist magazine wants to send your Fall 2015 students FREE copies of its August/September issue plus samples of art supplies. There is no cost to you or your students to participate. It is the magazine's hope that the students who receive these packages are inspired to pursue their passions and continue building their art careers. Learn more at Professional Artist magazine.
Open Children's Minds Through Creativity
Volunteering for Art Start in New York, NY, offers an opportunity to pair up with young people whose dreams far surpass their immediate circumstances. Artwork is just one of the magical results. Your ideas, your time, your expertise and your willingness to make a relationship with a child or a teen, even if just for one night a week, will open up their minds to seeking opportunity and plowing towards their goals. The experience will also open you up as an artist and creative mind. If you have a background or interest in the arts and a willingness to help lead a project based on your interests consider becoming a volunteer at Art Start. Learn more.
100 Art & Healing Resources
Are you seeking more ways to bring your art and passion for creativity to help others? Visit The Healing Power of ART & ARTISTS Art & Healing Organizations Resource Directory. It contains 100 resources with numerous art programs and opportunities to share your art and love for creativity to make a difference in other peoples lives.
PLEASE SHARE
by