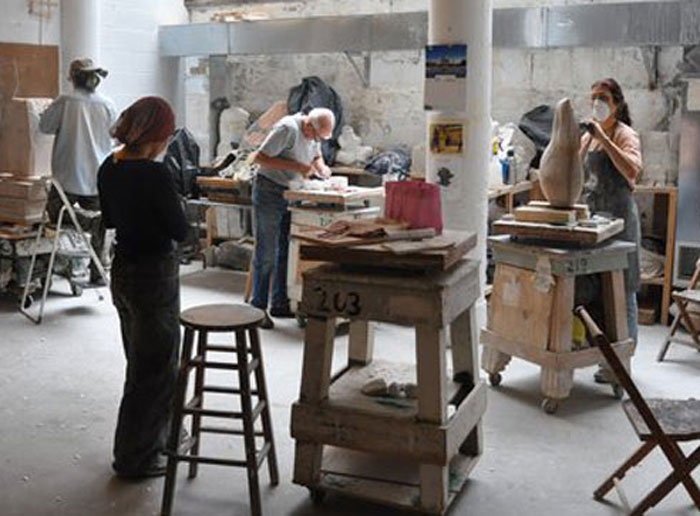 The Art Students League of New York, an incredible school that I had the pleasure of attending as a young artist, will pay tribute to veterans in an exhibition, "On the Front Lines: Military Veterans at The Art Students League of New York." The exhibition will feature the work of 20 prominent artists who served their country and studied or taught at the League from 1945 to the present. They include such artists as Stanley Boxer, Paul Jenkins, Al Held, Knox Martin, and Robert Rauschenberg, who attended the League on the GI Bill from 1949-1952.
"On the Front Lines" is co-curated by Jillian Russo, Ph. D., the League's curator, and Ira Goldberg, Executive Director. It will take place at the League's Phyllis Harriman Mason Gallery, located at 215 West 57th Street, New York, NY, and will run from June 19 – July 29, 2015.
Call For All Veterans Who Studied at the League
In conjunction with this tribute exhibition the League will present an open juried show to honor and recognize the accomplishments of all the veterans who studied at the League since World War II. They are invited to submit artwork for display in the lobby, office and cafeteria spaces. For more information visit the Details Submissions page on the League's website. The entry deadline is March 31, 2015.
Goldberg stated, "No matter their military experience, these artists shared the common bond of serving America, where the individual and free expression flourish, fostering the creation of art. We honor their service and their creativity."
The Art Students League Was Founded by Artists, For Artists
The Art Students League of New York is one of America's premier art schools founded in 1875 by artists, for artists. The League offers a range of art courses in various mediums and encourages mastering skills and visual thinking. Today, more than 2,500 students of all ages, backgrounds and skill levels, study at the League each month.
Its format of ongoing classes in an atelier environment allows students to learn at their own pace and from artists who have a range of artistic philosophies and approaches. Additionally, the classes, lectures, workshops, exhibitions and professional development programs and artists residencies provide an important foundation for artists and students who intend to make art a profession.
I feel proud and privileged to have attended the Art Students League of New York, where so many world-renowned artists studied and taught art. It was there that I gained a superior art education and the joys of learning from my fellow students, many of whom had years of experience as practicing artists in the art capital of the world. The League was also where I developed a strong sense of camaraderie that lay the groundwork for my rewarding career in the arts.
I look forward to viewing this exhibition at the League in June. Perhaps I'll see you there!
Visit the Art Students League website www.theartstudentsleague.org
by