I recently read a wonderful article by Elizabeth Bram about the Open Studio methods of Pat B. Allen in the ART TIMES Journal. Founded in 1984, this publication, which can be read online, has been providing a stellar quarterly commentary and resource for the fine and performing arts.
Elizabeth Bram's article provided a view into a new world of knowledge about art therapy I hadn't been aware of. As followers of The Healing Power of ART & ARTISTS I thought you might also find this very interesting.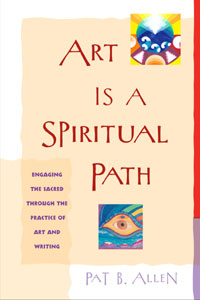 The subject of  Ms. Bram's article is Pat B. Allen and her Open Studio methods. Ms. Allen is an artist, art therapist and the author of several books including Art is A Spiritual Path and Art is a Way of Knowing, published by Shambhala Publications, among others. Her books are available on Amazon.com. She also conducts workshops on the basic methods of Studio Process. To learn more about Pat B. Allen visit her website at www.patballen.com/
With Elizabeth Bram's permission, I have selected a few excerpts from her very comprehensive article that appears on page 5 in the ART TIMES Journal. I highly recommend you read the entire article at arttimesjournal.com/pdfs/art_times_summer_16.pdf
Elizabeth Bram is a published author and illustrator of children's picture books, an internationally exhibited painter, and a creativity coach with a Master's degree in creative arts therapy. She is currently participating in a group exhibition at SUNY Westchester Community College in Peekskill, NY. View her art at Imagekind.
A Few Excerpts From Elizabeth Bram's Article
In the world of art therapy, the term "open studio" refers to a type of group art therapy in which no directives are given. For Pat Allen, "open studio" means much more than that.
Pat Allen's ideas on group art therapy are in direct opposition to the more traditional approaches. First, many art therapists evaluate and interpret their patients' works using projective tests and through their own chosen psychological systems. For Pat Allen the artist is the authority on her own work. This idea plays a major role in the structure of the open studio.
For Pat Allen, the authority of the artist in determining the meaning of her own artwork is a given. It is the basis on which she organizes her open studio as a form of group art therapy.
The next important concept in open studio is the relaxing of roles between the art therapist and the participants. In these groups, the therapist creates art alongside the participants, much like an artist-in-residence.
Here we envision a studio with the group participants as well as the leader creating art together as a community. Pat Allen writes, "In this view, the healing aspects of art-making arise from the making and doing, the trying and failing, the experimenting and succeeding, alongside others."
…within this system of equality, self-determination and freedom, there are some very specific principles that are followed. First, open studio group art therapy can be used to discover answers to issues in one's life. The way this is done is by setting one's intention before beginning any creative work.
Allen writes that, "It isn't necessary to try to make a picture about the problem; you have only to form a clear intention to know something and then simply take up the materials and begin."
Open studio is far too advanced and evolved to be used by psychiatric patients or by the psychologically weak or faint-hearted. It is not for beginners who have never looked within and need someone to hold their hands.
Art-making using intention, witness-writing, dialoguing with the images and reading one's writing aloud are the building blocks of this awesome form of group art therapy. Pat Allen's open studio method is a wonderful journey for those of us who are equipped for the voyage.
Read the entire article at arttimesjournal.com/pdfs/art_times_summer_16.pdf
PLEASE SHARE
by