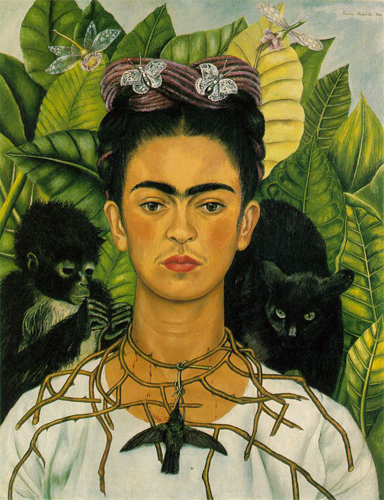 An artist who epitomizes an individual's triumphant spirit to overcome challenges through creativity is Frida Kahlo. One of the most respected women artists her art has been praised for its originality and its surreal, dreamlike, and fantastical quality.
At the age of six Kahlo was stricken with polio. At age 18 she was in a bus when it overturned. She suffered numerous injuries including a broken spinal column, a broken collarbone, and 11 fractures in her right leg. Throughout her life the woman had relapses of tremendous pain and fatigue, which caused her to be hospitalized for long periods of time. She had to undergo more than 30 operations in her lifetime. She also endured a widely publicized tumultuous relationship with her husband and world-renowned muralist Diego Rivera.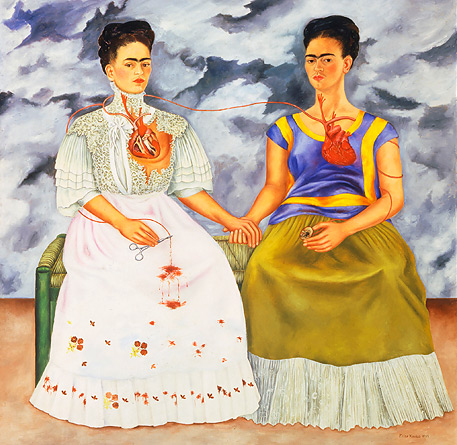 Frida Kahlo taught herself to paint during her initial recuperation period. Through her art she reflected and transcended her suffering and loss. In her highly personalized style she exposed intimate aspects of herself. Her paintings were a type of catharsis, releasing sorrow and pain associated with her physical trauma.
In many of her self-portraits Kahlo is surrounded by symbols that represent superstitions and folklore. The surrealist usage of mask and costume is part of everyday rituals in Mexico, and death in the realm of the sacred, also worked as a resource to address the matter of identity and gender. In some of her self-portraits, Frida Kahlo painted herself wearing ornaments and accessories that identify with the pre-Hispanic past and the indigenous cultures of Mexico. These paintings evoke powerful women such as goddesses or tehuanas, appropriating the identities of these Amazon matriarchs. She also explored her sexual and cultural identities such as childbirth, abortion and miscarriage.
She wrote, "I paint self-portraits, because I paint my own reality. I paint what I need to. Painting completed my life. I lost three children and painting substituted for all of this." She wrote in her diary, "I am not sick, I am broken. But I am happy to be alive as long as I can paint."
As many artists have done, instead of hiding her disability shamefully, Kahlo used her art as a way to bare her pain and tragedy. Through her many self-portraits she was able to project her pain onto the canvas. This enabled her to relieve herself from the burden of dealing with her agony.
by