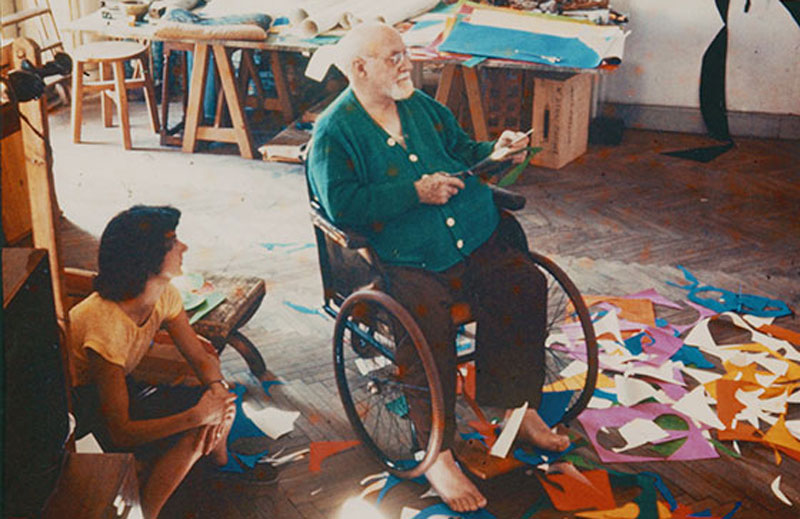 Henri-Émile-Benoît Matisse (1869–1954) is known as one of the leading figures of modern art as an outstanding colorist, draughtsman, painter, print-maker, and sculptor. Along with André Derain, he is credited for having launched the Fauvism movement (1904-1908), an intensely emotional style of painting distinguished by a color palette that was rebellious for its time.
The artist is proof that art heals and that age has no limitations. In 1941, he was diagnosed with cancer. After his colostomy he had to succumb to the use of a wheelchair. Although he lost the physical strength to paint and sculpt as he once had, this did not deter Matisse from discovering renewed creative energies and he began his "cut-out" works of art.
Although Matisse's prolific art career spanned more than 50 years, it is a widely accepted opinion that his whimsical cut-outs, are among the most admired and influential works of his entire career. His creative passion never ceased even during his illness and during his advanced age.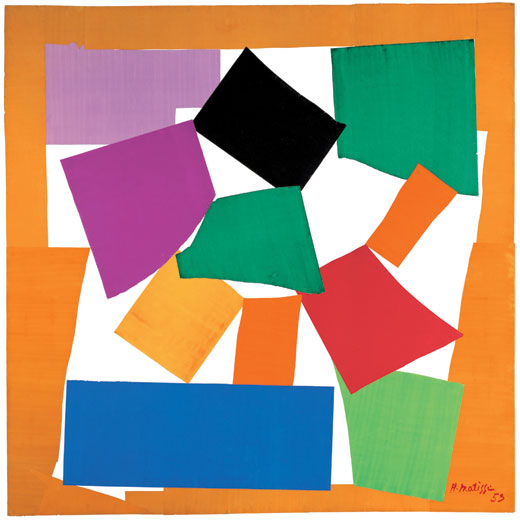 Every Day is a Gift
"I didn't expect to recover from my second operation but since I did, I consider that I'm living on borrowed time. Every day that dawns is a gift to me and I take it in that way. I accept it gratefully without looking beyond it. I completely forget my physical suffering and all the unpleasantness of my present condition and I think only of the joy of seeing the sun rise once more and of being able to work a little bit, even under difficult conditions." ~ Henri Matisse
Matisse began creating magnificent cut-outs with a pair of tailor scissors. He cut sheets of paper that had been painted with gouache and often crayon, into various shapes and sizes. He referred to these cut-outs as gouaches découpés.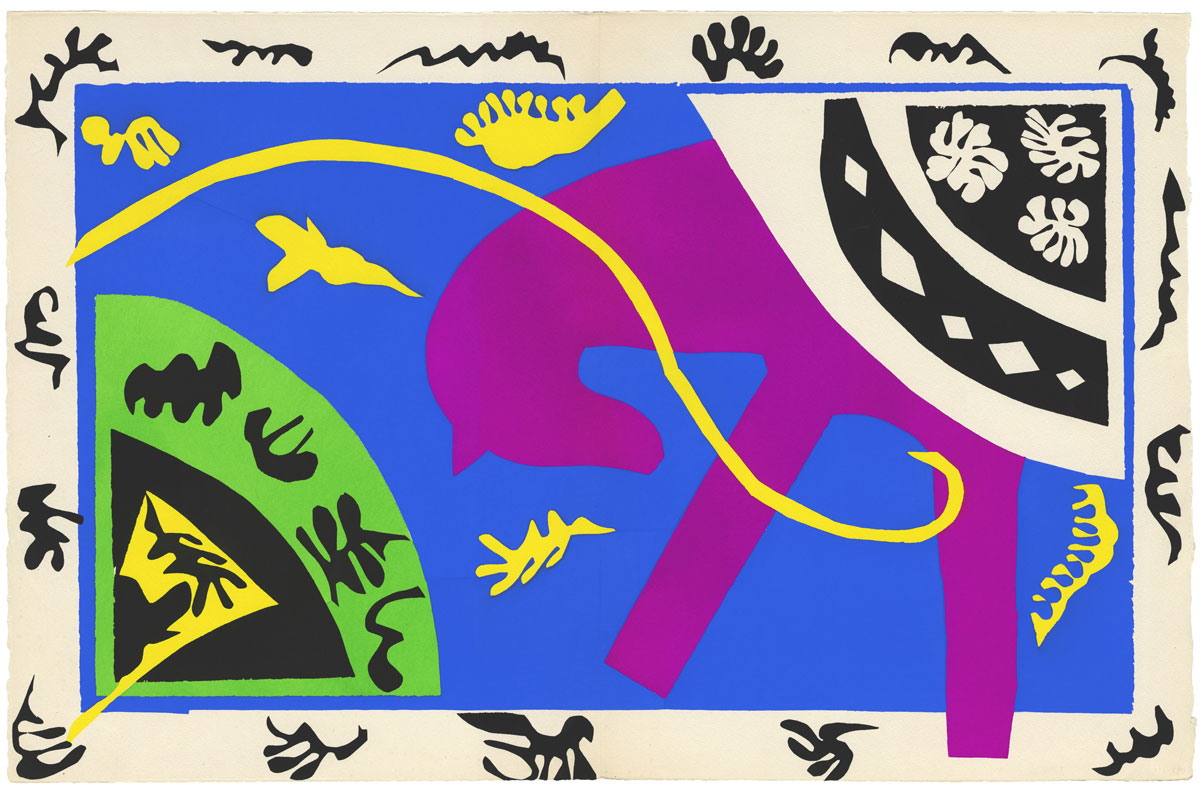 His Creativity Increased With Age
Matisse's advanced age did not prevent him from achieving high levels of creative production. He created his cut-outs during the last chapter of his life. They are often referred to as the artist's final artistic triumph.
He was in his 70's when he started creating the cut-outs and he often referred to this period as being granted a second life: "I have needed all that time to reach the stage where I can say what I want to say. Only what I created after the illness constitutes my real self: free, liberated…"
Matisse referred to these works as "cutting into colour". The forms that he cut from paper were simplified, organic shapes that resembled leaves, algae, seaweed, and coral.
With the assistance of his companion, Russian-born Lydia Delectorskaya, who was one of his former models, Matisse continuously rearranged the colored cut-outs until he was completely satisfied with the balance of form and color. The finished composition — a fantasy explosion of whimsical delight — was then glued to some type of support such as paper, canvas, or board.
Another important point to make is that at the time Matisse was creating works of art with paper his new art form was often ridiculed and not taken seriously. Today they are considered to be among the most treasured works ever created. It is a reminder that opinions of "experts" about the quality of art frequently change throughout time.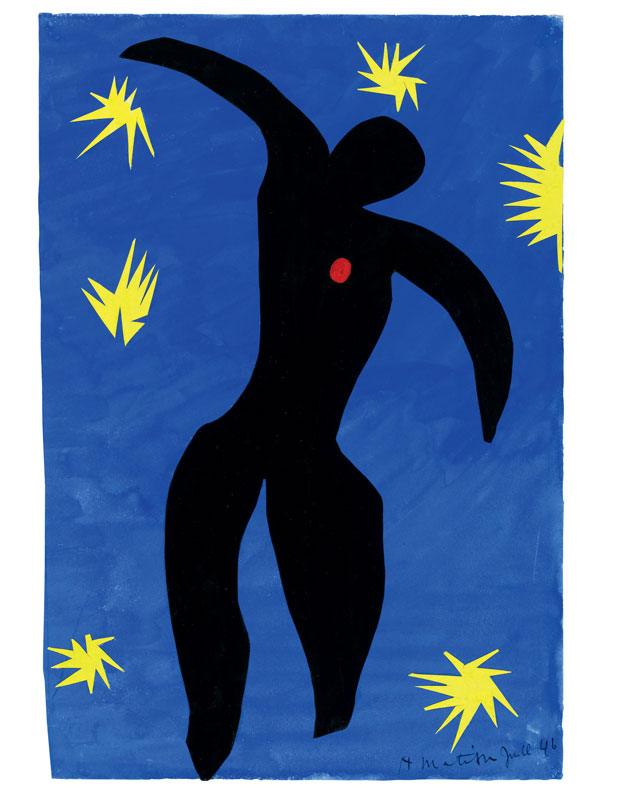 The Art Books of Henri Matisse at The Bechtler Museum
An exhibition of art books by Matisse is on display through September 7, 2015, at the Bechtler Museum of Modern Art http://www.bechtler.org/
Drawn from the Bank of America Collection, "The Art Books of Henri Matisse" includes 80 framed original illustrations with text from the artist's most significant books. The exhibition features one of Matisse's most widely reproduced images – the iconic illustration of Icarus (shown above), as a languid black figure with a red circle at his heart, plunging downwards against a royal blue night sky, surrounded by yellow stars.
The Healing Power of Art ~ Call For Artists
Matisse's life's experiences are giant triumphant reminders of the creative spirit that has the power to overcome any obstacles. The healing power of art is undeniable.
Please join us as we celebrate The Healing Power of Art 2016 with our 11th exhibition devoted to art and healing images by artists from around the world.
To learn more about Manhattan Arts International's "The Healing Power of Art" online exhibition please visit the Manhattan Arts International website.
***********************************************
by