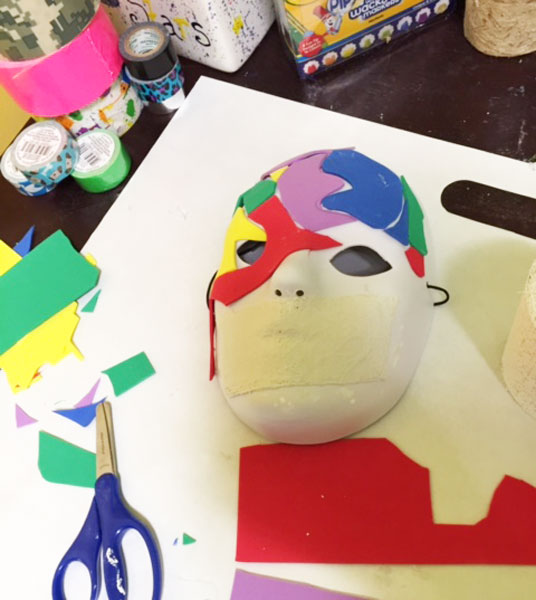 The first use of art as a therapeutic discipline was developed in the 1940′s in both the U.S. and Europe. In England, Adrian Keith Graham Hill, an artist, author, art therapist, educator and broadcaster, was the first person to refer to the therapeutic applications of art and coined the term "Art Therapy" in 1942. While being treated in a sanatorium for tuberculosis, Hill suggested art projects to his fellow patients and observed the healing benefits. In 1945 he published his work as an art therapist in a book titled Art Versus Illness.
In the U.S. Margaret Naumburg, an American psychologist, educator, artist and author, and founder of the Walden School of New York City is credited with introducing art as a therapeutic modality in the 1940s. She called her approach Dynamically Oriented Art Therapy. Dr. Edith Kramer was another pioneer in Art Therapy. After studying art in Vienna, Austria she became a U.S. citizen in 1944 and founded the Art Therapy graduate program at New York University.
Today, contemporary Art Therapy is a serious multi-faceted profession and many colleges and universities offer Art Therapy master degrees.
What exactly is Art Therapy?
For everything there is to know about Art Therapy there is one definitive source — American Art Therapy Association, Inc., an organization of professionals "dedicated to the belief that making art is healing and life enhancing." AATA provides standards of professional competence, and develops and promotes knowledge in, and of, the field of art therapy.
On the AATA website you'll find wealth of information including, "Art Therapy is a mental health profession in which clients, facilitated by the Art Therapist, use art media, the creative process, and the resulting artwork to explore their feelings, reconcile emotional conflicts, foster self-awareness, manage behavior and addictions, develop social skills, improve reality orientation, reduce anxiety, and increase self-esteem."
What does an Art Therapist actually do?
To answer this question I turned to Robyn Schindler, an Art Therapist with her own practice Paint The Stars Art Therapy, LLC (PTSAT), in New Jersey, which she created in order "to help all children reach the stars!" PTSAT offers a wide variety of creative outlets to be used alongside psychotherapy.
Robyn Schindler helps children, teens and young adults from 3 through 21. The children she sees suffer from a variety of issues including but not limited to: Depression, Anxiety, Anger, Obsessive Compulsive Disorder, Oppositional Defiance Disorder, Bipolar, Family related issues, issues (i.e. divorces, blended families), Behavioral issues (such as acting out in school and/or home, continuous tantrums), Psychotic Disorders, Trauma related issues (i.e. abuse, loss of a parent), Developmental Delays including Autism Spectrum diagnoses, and more.
She states, "I also see some children for preventative reasons when a parent believes a child may be on the cusp of certain issues and is looking to stop it before it starts."
RP: Robyn, what is your definition of Art Therapy?
RS: "I believe that art is anything that a person creates, be it with paint, words, song, dance, etc. Art has a natural healing component in its own right. The act of creating art can be a source of relaxation, a cathartic release or just a pleasant distraction. Since I work with children I find that most children use the art making process as a way to open up and feel more comfortable speaking about certain things or issues they normally would avoid."
RP: How does Art Therapy help young people express themselves?
RS: "Children, as a specific population, communicate through play and creativity. If you watch a child play they are slowly creating their own world. Some create a place of escape while others create a place of familiarity. This starts as early as being in a crib with basic toys and continues throughout their development. As a therapist specializing in children you want every child to invite you into their world of play and imagination."
RP: Why is mask-making helpful in Art Therapy?
RS: "Masks are a great way to teach children about how one emotion can actually be attached to other feelings and also how when we are feeling good emotions (like happiness), sometimes we have some other feelings living underneath them. This is one of my favorite directives ever!"
RP: What educational background is required to become an Art Therapist?
RS: "To be a psychotherapist or counselor you need a Masters Degree in a related field such as Psychology, Mental Health Counseling, Marriage and Family Therapy, Addictions, etc. Because I had chosen to specialize in Art Therapy, I decided to pursue my Masters in Mental Health Counseling before going on to Art Therapy because so many states lack a license in Art Therapy. Since the moment I found Art Therapy, I also believed that a strong background in psychology would be important and so I made the individual decision to do two Masters Degrees. I have my MS in Mental Health Counseling as well as an additional Masters (MA) in Clinical Art Therapy."
RP: What titles and licenses do you hold?
RS:"Licensed Creative Art Therapist (LCAT-this is a NY based license although NJ is presently working on an equivalent), Licensed Professional Counselor (LPC in NJ), Registered and Board Certified Art Therapist (ATR-BC; nationwide) and a National Certified Counselor (NCC). I also have received certificates in Play and Sand-tray therapies."
To learn more about Art Therapy visit the American Art Therapy Association: http://www.arttherapy.org
To learn more about Robyn Schindler and Paint The Stars Art Therapy, LLC visit: www.paintthestarsarttherapy.info and paintthestarsarttherapy.tumblr.com/
I recently wrote an article "Is Art Therapy the Ideal Career for You?  for the August-September issue of Professional Artist magazine. For more information visit http://www.professionalartistmag.com
Art Therapy is a fascinating practice and discipline. I look forward to bringing more articles to you on the subject in the future. Please write your comments and questions below.
PLEASE SHARE
by