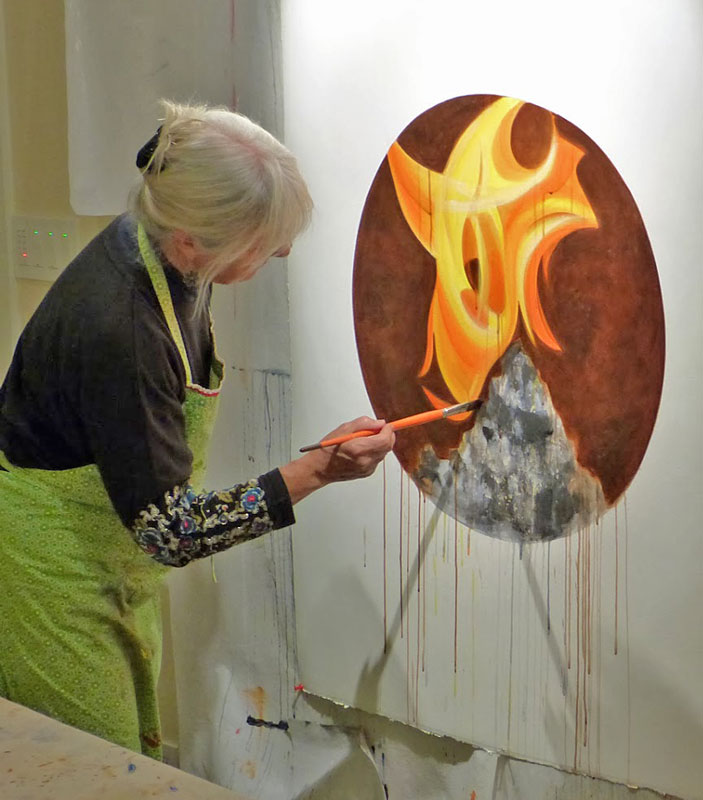 Mary Lou Dauray is a multi-talented artist, writer and environmental advocate who uses her art, writing and numerous humanitarian activities to raise awareness about the need for positive change. She is proficient in a variety of mediums that include watercolor, graphite, oil, and acrylic, and frequently uses her iPad to create sketches. She is a member of The Healing Power of ART Gallery and she is The Healing Power of ART Gallery Featured Artist of The Week.
Dauray is recognized for her paintings about coal-burning; however, that is one of several topics she tackles. As the artist states, "My art reflects my creative response to both travel experiences and current global events. Although I have been painting for many years, my work expresses a deep concern about global warming, climate change and pollution as well as anxiety about world-wide inequality and injustice."
On her blog in September, 2016, during California's monstrous destructive wildfires she posted this: "For quite some time now I have been painting artworks about the burning, transporting and mining of coal. Coal pollution is assuredly one of the major causes of the greenhouse gasses that are warming the surface of our planet." She quoted the League of Conservation Voters: "We are now paying the price for unchecked climate change."
Dauray's art is in numerous public collections such as the Sophie Davis Medical School, City College of New York, and many private collections. She has been in numerous exhibitions throughout the United States including those at the Virginia Museum, Blue Planet juried show sponsored by The Pacific Coast Region of Women's Caucus for Art, Gallery 111 juried exhibition in Sausalito, CA, and Runnymede Corporate Headquarters, Virginia.
She has been curated into juried exhibitions sponsored by Manhattan Arts International titled "Celebrate the Healing Power of Art", "Art That Lifts Our Spirits", and most recently its "Hot Topics – Bold Expressions" exhibition for which she received an Award of Merit. She is also a member of the Manhattan Arts International curated Featured Artists Program where an article about her appears here.
In addition to environmental subjects Mary Lou Dauray has also created paintings that celebrate the majestic power and beauty of the natural world. For several years she has been traveling to Ghost Ranch in Abiquiu, New Mexico, the area where Georgia O'Keeffe lived and painted. During these visits she has produced many exquisite watercolor paintings, including "Geogia's House", shown above. She has organized a painting week in New Mexico, which she describes as "a restorative and creative experience for all." She says although participants primarily paint, they also hike, meditate, photograph and write.
Another one of  Dauray's passions is the advancement of women artists and women's rights. As a board member of the Leonard and Sophie Davis fund, a private family foundation, she was instrumental in creating the RAW (Recognizing the Art of Women) Series at the Norton Museum in West Palm Beach, Florida. They have presented exhibitions that have highlighted the extraordinary art work of women artists. She has also helped to support the Dreyfoos School of the Arts in West Palm Beach. Furthermore, she has been involved with the Creative Aging Initiative at the University of Southern California's Davis School of Gerontology.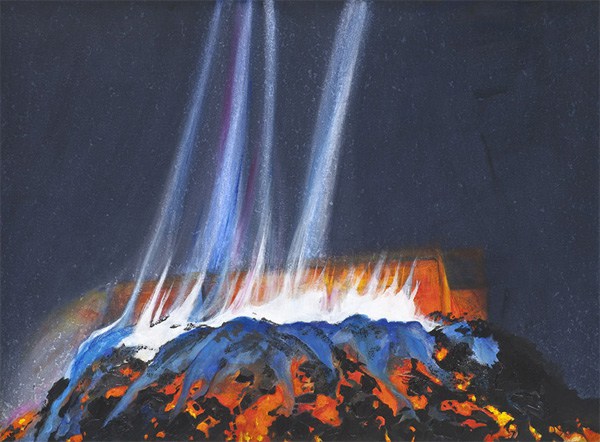 In recognition of her many accomplishments, in May, 2014, I had the pleasure of writing an article about her on the Luxe Beat magazine website and digital magazine: Mary Lou Dauray: Artist, World Traveler, and Advocate for Positive Change. In this article she is quoted as saying, "Most of the time, while traveling, I look, listen and observe. I quietly combine my life's experience, my visual abilities and my concerns and put those thoughts into a quiet place and mull them over. I know that when I return to my studio, some of these experiences will inspire a series. I also take many photographs and use them as resources in my work."
Mary Lou Dauray can be found traveling around the globe, exhibiting her art and interviewing artists like herself who are concerned with global issues. You will find several articles about environmental artists. Click here for a directory of her articles. With her many talents, compassion, and vision, she continues to strive to make a positive difference.
Visit Mary Lou Dauray's page on The Healing Power of ART: http://www.healing-power-of-art.org/mary-lou-dauray/
Visit her website: http://www.maryloudauray.com
PLEASE SHARE
by