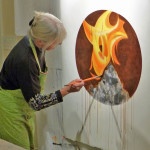 About Mary Lou Dauray:  Exhibitions of her art have taken place throughout the United States including the Virginia Museum. Her work is in numerous public collections including the Sophie Davis Medical School, City College of New York, and many private collections. She has has received many awards  including those from Manhattan Arts International. As an arts advocate she has been instrumental in helping to sponsor RAW—Recognizing the Art of Women at the Norton Museum.
Mary Lou's Statement: "My art reflects my creative response to both travel experiences and a deep concern about the causes and effects of the destruction of the earth's climate made by man-made global warming. The severe destructive environmental pollution caused by the burning, transporting, and mining of coal has been the focus of my recent series of paintings."
All rights reserved. Do not copy image without the artist's permission.
Click on thumbnails for larger views.
Also read Mary Lou Dauray Raises Awareness About Coal Burning and Pollution
www.healing-power-of-art.org/mary-lou-dauray-raises-awareness/
Visit Mary Lou Dauray's website
www.maryloudauray.com
Join Mary Lou Dauray in Social Media
linkedin.com/pub/mary-lou-dauray/a/7a5/244
facebook.com/mldauray
twitter.com/MaryLouDauray
PLEASE SHARE
by