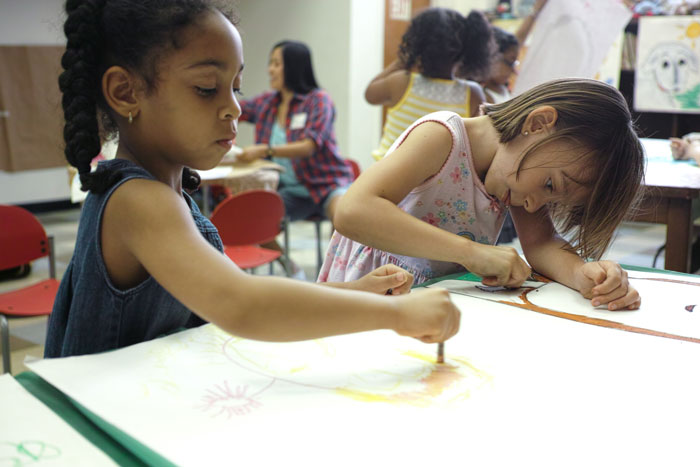 One of my favorite quotes is by Nelson Mandela: "There can be no keener revelation of a society's soul than the way in which it treats its children." It came to mind as I found out about Adarsh Alphons, an artist and founder of ProjectArt,  an organization that brings art classes in public libraries that are near schools where art is not taught. ProjectArt's important message is "Changing the way the world views arts education."
Adarsh Alphons was born in India and now lives in New York City. I first learned about him from reading a wonderful article by Meghan Dunn, Associate Producer at CNN Heroes, who produces programs "about ordinary people doing extraordinary work." As Dunn explains Alphons was "disheartened to learn that nearly three in 10 public schools lack even one full-time arts teacher. And across the country, when it comes to school budget cuts, arts programs are often among the first to go." We have chosen Adarsh Alphons as one of our leading world changers.
"Put Paintbrushes in the Hands of Kids"
Alphons is fully aware of the many educational and emotional benefits derived from creative self-expression through art and believes, "Art is essential to a well-rounded education because it lets a child learn things that they wouldn't learn through other fields. It's meditative, it's reflective, but it also involves skill and hard work." He emphasizes,"Every child needs to have space for them to create. I decided we need to be the ones to put paintbrushes in the hands of kids."
One Teacher Believed in Him
The life-changing experience that served to propel Alphons' mission is explained on the ProjectArt website. "Expelled from school when he was just seven years old for drawing in class, his parents put him in a different school, and by the time he was fifteen, he was painting portraits for Mother Teresa, Nelson Mandela and the Pope, all because one art teacher perceived his passion for art, encouraged his aptitude and believed in him."
This compassionate man is now encouraging many other children and changing their lives for the better. Since 2011, ProjectArt has expanded from one branch in Harlem to a network of 12 libraries throughout the City. Through its efforts some 1,000 children have benefited from ProjectArt. They comprise three different age groups: 4-7, 8-12, and 13-17.
Exhibitions of Children's Art
In addition to receiving art classes, at the end of each semester ProjectArt presents exhibitions in contemporary art galleries in New York City. The exhibitions give the children a sense of pride and the opportunity to talk about their artwork. As Alphons observes, "It acknowledges the hard work the child put into it. It celebrates them, and it lets them know what's possible if they chase after their dreams."
CNN Hero Award-Winner
Alphons has received many accolades for his contributions through ProjectArt. A glance at his LinkedIn profile provides his many achievements. In addition to being chosen as a CNN Hero he has been recognized as an AmEx-Ashoka Emerging Innovator, NYC Rising Star by PAVE, a Columbia University Community Scholar, awarded the citation of 'Hero of Education', by NYC Councilman Robert Jackson, and as the New Yorker of the Week by NY1 News, for his work with ProjectArt.
How You Can Help
ProjectArt is a nonprofit organization with its own independent 501.c.3 status. It relies on support of individual donors and foundations. There are several ways you can help ProjectArt. The website has a page that gives specific suggestions and guidance. You can become a volunteer, make a donation in money or resources, or share your ideas on how ProjectArt can grow even larger and help more children receive the benefits of arts education.
We are grateful to heroes like Adarsh Alphons who care about children and want to bring more positive change to the world. We also applaud Meghan Dunn for producing important, positive and inspiring pieces about heroes.
Visit the ProjectArt website.
PLEASE SHARE
by