Nancy Calef creates highly dimensional and powerful mixed media paintings titled "Peoplescapes", that incorporate sculpture and found objects and her "plane slashing" technique. They confront a range of social, political and spiritual issues and have been exhibited widely throughout California. She is also the author of Peoplescapes — My Story From Purging To Painting (Babu Books), an illustrated memoir. In this article she shares a profound and inspirational story in which she states, "The universal language of art is an amazingly potent process…" I am grateful to Nancy for sharing her incredible paintings and story about her healing process through art. Her article is part of our ongoing series of "Artists' Stories" on The Healing Power of ART & ARTISTS blog. ~ Renée Phillips
Nancy Calef's Story
I've been painting for 35 years, beginning with plein-air and evolving into what I call "Peoplescapes" oil and 3D mixed-media on canvas with sculpture and found objects, weaving together narratives about contemporary life, while addressing social, political and spiritual issues facing society.
Art has saved my life.  The decades spent in my studio, a sacred place of self- confrontation and limitless mystery, have taught me to accept and nurture myself.  As painful as the process of truthful introspection often is, it is essential for self-realization and development as an artist and a person.
When I step out of my own way, it seems that the paintings create themselves. Hopefully, sharing my story will inspire others who suffer from trauma and deep pain, resulting in destructive patterns.
My journey began as a child model with a bi-polar stage mother who shifted between Lucille Ball and Mommie Dearest. The scars of that experience left me struggling with a food disorder from age 14 to 25, when the death rate is 12 times higher than all other causes of death for women in that age bracket. For the flip side of cameras and runway fashion shows was anorexia and bulimia.
Handling modeling stress while living in terror over my mother's awful mood swings and relentless pushing, I submerged myself into a world of drawing faces and fashion designs that I kept under my bed.
After two years at Bronx High School of Science, and still only 15, I conspired with my guidance counselor and obtained early admission to a college away from home.  At the women only College of New Rochelle, run by the Sisters of The Order of St. Ursulines, the nuns offered an art scholarship.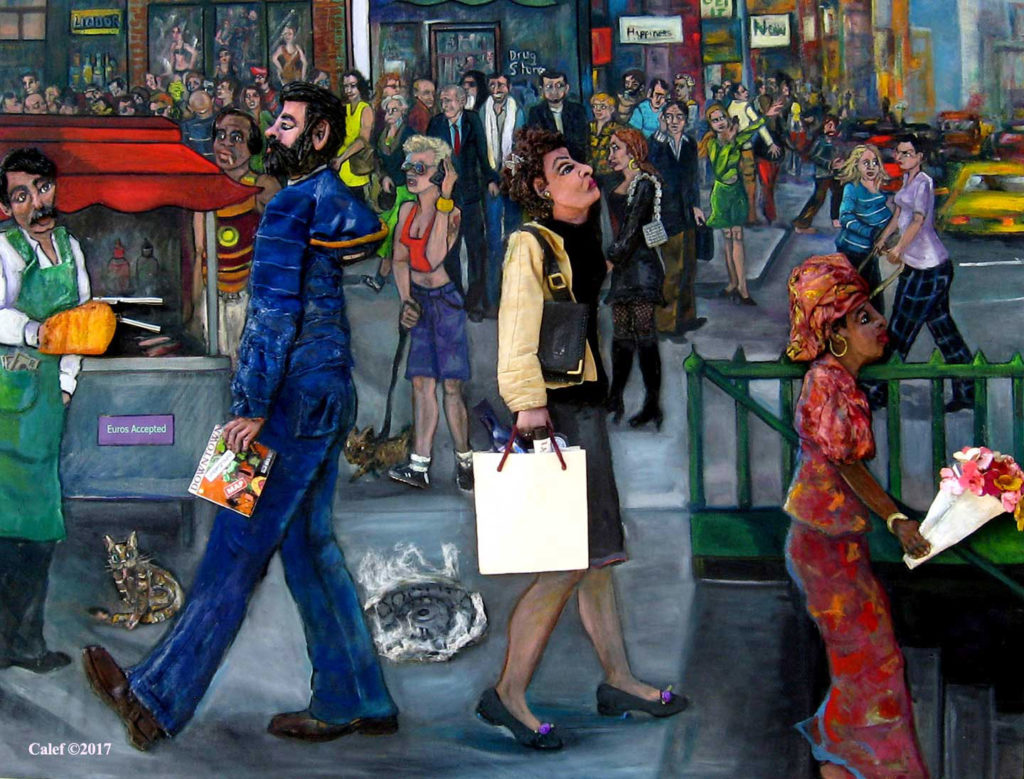 While experimenting with drawing, painting, sculpture, and design in various mediums and styles, I suddenly found myself working inside out to find a means of self-expression. Alchemy occurred. I began converting negative energy into positive action, though the product wasn't yet refined. As I became better able to identify my creative rhythm by releasing the tension and stress of the outside world, I uncovered some of my deepest beliefs.
By regularly producing artwork, I eventually overcame my disorder many years and adventures later. Accompanied by the freedom of experimentation, I also maintained my emotional stability.  One day, though, while looking through my storage area, the accumulated inventory screamed: "failure!" threatening to resurrect my old familiar friend "self-loathing."  My insides recoiled and I wanted to slash every canvas.
I decided to bring a few of them into my studio and did exactly that.  First, I cut into old paintings and combined them with seemingly disparate works from another period.  Next, I manipulated the plane of existing paintings, often integrating them with one or more fresh canvases, opening a new world of non-linear concepts and abstractions.  Painting into the deconstructed imagery as a whole, resulted in a cohesively transformed multi-dimensional piece.  I also found an ideal way to recycle paintings and alleviate my storage problem.
Instead of wallowing in self-pity, feeling swallowed up by my unsold work, I turned my negativity into creating this "plane slashing" technique.  By allowing the paintings to emerge anew, I was able to release my attachment to their previous incarnation.  Similar to working through my food disorder, I was letting go of the old patterns, in this case transforming them into an original vision.
Life experience, world travel, my passionate and steady commitment to the creative process have all provided a strong foundation for wrestling my demons and relating to the world, even earning my keep as a painter.  By honestly recognizing my emotional upheavals as they arise, my antidote to victimization has been through disciplined self-expression, often channeling self-destructive patterns into productive, creative energy. The universal language of art is an amazingly potent process that can help us connect with our soul and manifest our potential.
Visit Nancy Calef's website http://nancycalefgallery.com
Join Nancy Calef on social media
Facebook
Twitter
PLEASE SHARE
by