Beyond Borders: Stories of im/Migration is a powerful and timely group exhibition that runs through April 6, 2018, at Santa Clara University, Edward M. Dowd Art and Art History Building Gallery, 755 Franklin Street, Santa Clara, California. It has been organized by the curatorial team of Gutfreund Cornett Art. Karen Gutfreund and Sherri Cornett are Curator/Exhibition Directors, Arts Administrators and practicing artists.
This article includes excerpts from a press release and appears with permission from Gutfreund Cornett Art gutfreundcornettart.com.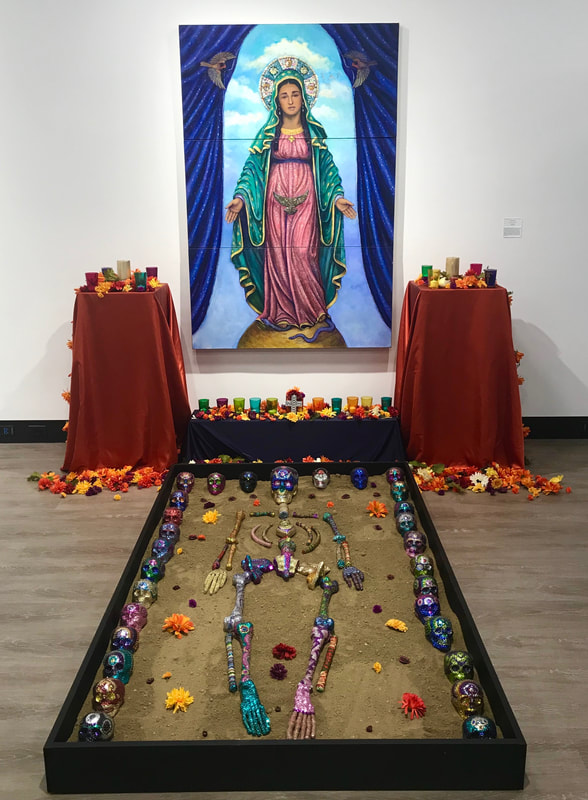 Gutfreund Cornett Art believes art can transcend language barriers, strengthen understanding, stimulate greater compassion between displaced people and the communities that receive them, move us to action and advocacy and create visions for a new, more inclusive society. The team curates exhibitions in venues around the U.S. on themes of "art as activism" to stimulate dialog, raise consciousness ​and encourage social change.
According to the UN, 65 million people were displaced last year due to natural disasters, war and persecution. Migrations of humanity, whether instigated by war, conflict, persecution, poverty or climate change, transport peoples from the known, their homes, families and communities, to the unknown.
Beyond Borders: Stories of im/Migration explores the personal and observed narratives surrounding the struggles of flight, the immigration process, asylum, assimilation, deportation, threats of violence and the perception of being "other" within the American culture.
Despite the complex assortment of legal, social, emotional and physical challenges, increasing numbers still trade these risks for the chance of safer, better lives for themselves and their families. Beyond Borders acknowledges the dignity, dreams and sacrifices of these people and reflects on where we are going, individually and as community.
The artists in the exhibition candidly, poetically and conceptually speak to these important issues, highlighting universal, shared human experiences. For example, in her installation "Crossings/Travesías" Diane Kahlo brings together several mediums and approaches to "art-making" to create two installations that talk about the loss of life while people are attempting to migrate to an area where the possibility of finding work in order to feed their families. In both works, the embellished skeletons and skulls are lamented over by the Virgin of Guadalupe, the patron saint of Mexico.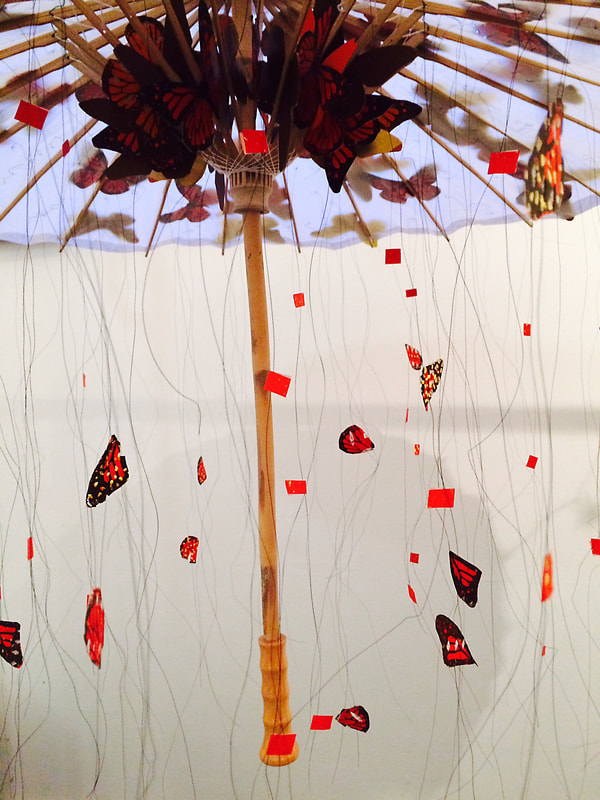 With an installation of umbrellas suspended from the ceiling covered in Monarch butterflies to a carpet of butterflies below, Priscilla Otani's "Our Hearts Beat As One" represents the shared desire of migrants for survival and regeneration. The artist from San Francisco, California states "The paper umbrella represents a fragile shelter, a destination reached, though not as secure as expected. The inside spokes provide a narrow perch where the travelers cluster to stay warm. The fallen leaves beneath the umbrella offer both sustenance and a burial ground. The wings falling from the umbrella convey tears at the fleetingness of life."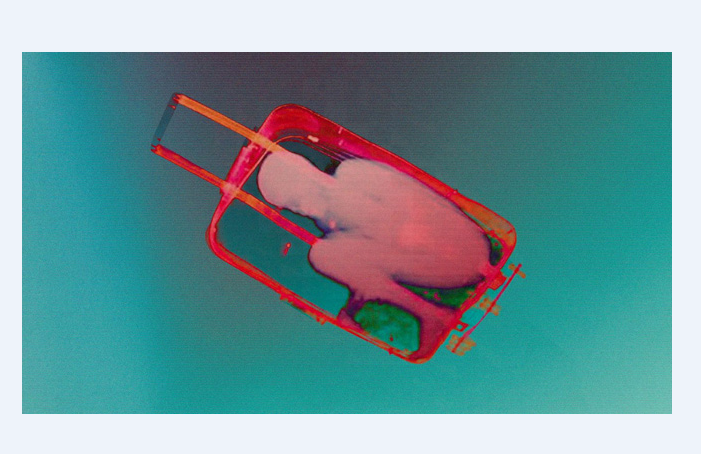 "Boy in Suitcase" is a video produced by Julio Cesar Morales, an artist from Tempe, Arizona. It reveals an eight-year-old boy's journey from the Ivory Coast that was recently smuggled to Spain via Morocco in a suitcase. The father who lives in Spain was trying to reunite with his son. The animation video attempts to create visuals from the boy's perspective of what he might have seen through a small zipper and tiny holes in the suitcase that features some kind of spiral hallucinations and a bewildering type of colors and sounds. The animation is produced from a single x-ray image taken by Spanish custom officials and then colors as sampled and animated to produce the moving image.
The artists participating in Beyond Borders: Stories of im/Migration include Tessie Barrera-Scharaga, Carlos Cartagena, Rolando Chicas, Kathryn Clark, Judy Gelles, Taraneh Hemami, Diane Kahlo, Sana Krusoe, Erin McKeown/Stephen Brackett/Shawn King, Delilah Montoya and Sin Huella Collective, Julio Cesar Morales, Gala Narezo/Shamina de Gonzaga/Chantal Fischzang, Priscilla Otani, Judith Quax, Zahava Sherez, Doerte Weber, Shannon Wright, and Yu-Wen Wu.
​Throughout this exhibition, Santa Clara University will host interactive events aligned with campus-wide initiatives and programs aimed at engaging local communities. There will be an event titled "Community Conversation with the Artists" held Friday, February 2, 2018, 4-5 p.m. A gallery reception open to the public will follow, 5-8 p.m.
Visitors of this powerful exhibition will have access to a wide range of multi-media works: horrific and impactful, hopeful and reverential, abstract and emphatic, poetic and conceptual, with a call for reflection and action.
Gutfreund Cornett Art is committed to promoting and supporting local, national, and global art activism. They explain, "Art can produce a visceral response and can provoke, inspire, or disturb, and opens one's eyes to worlds other than your own. Art can transcend language barriers, strengthen understanding, stimulate greater compassion between displaced people and the communities that receive them, move us to action and advocacy and create visions for a new, more inclusive society."
Read about Social Justice: It Happens to One, It Happens to All exhibition co-curated by Karen Gutfreund and Sherri Cornett at social-justice-art-exhibition and the exhibition Embedded Messages embedded-messages both on this blog.
Visit the Gutfreund Cornett website for more information: gutfreundcornettart.com/gallery-beyond-borders.html
PLEASE SHARE
by