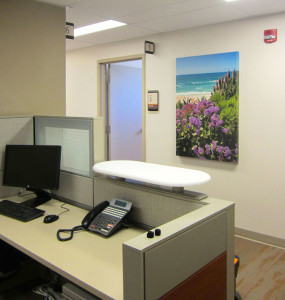 If you're an artist who creates art with positive images you may be interested in selling your art in the ever growing Healthcare Art Market. Art is being installed in wellness centers, medical facilities, general hospitals, pediatric medical spaces, senior residences, acute care hospitals, surgery centers, medical office buildings, physicians' offices, rehabilitation centers, and more, around the world. It's also being placed in treatment centers, spas, corporate lobbies, educational facilities, yoga and meditation centers as an intentional way of bringing a more welcoming and comfortable presence to these spaces.
Experts who have been conducting extensive research over decades have concluded there are definite kinds of art, subject matter, colors and the like, proven to have the most positive benefits.
Barbara Markoff is the owner of Artrageous!  in San Diego, California, an industry leader in the field of art consultation. Her diverse clientele includes many members of the healthcare industry. She wrote a very informative article on this website titled "Art in Healthcare is An Integral Part of The Design Plan". In it she cites the many benefits of art in public spaces and the growth of this field.
"Art budgets are factored in when preliminary budgets for furniture, lighting, signage, floor and wall treatments, and other essential furnishings are presented to project managers during the early stages of construction. Artwork is no longer looked at as frivolous; it is an integral part of the design plan."
She adds, "Public artwork serves many functions in healthcare facilities. Strategically placed artwork helps soothe and welcome patients and visitors. It also assists with wayfinding. Artwork helps clarify the boundaries of public and non-public areas of hospitals."
Are You Interested in Selling in This Market?

If you want to sell your art in the healthcare art market  you'll want to get a copy of this comprehensive e-Book. "Sell Your Art In The Healthcare Art Market" is a 100+ page PDF e-book I've created produced for artists who want to learn and excel in this fascinating field. It includes information on a range of topics such as:

* The Benefits of Art in Healthcare
* Types of Healthcare Venues Seeking Art
* What Kind of Art is Suitable for The Healthcare Market & Detailed Criteria
* Several Art Consultants That Supply Art for The Healthcare Industry & Their Artist Selection Process
* How to Submit Your Art for Healthcare
* What is Evidence-Based Design (EBD) and who was behind it?
* What is LEED and why is it important for you to know about it?
* Information About Art Consultants Seeking Art and How to Contact Them
* About Art & Healthcare Non-Profit Organizations That Use Art and Artists
* About Selected Artists who Sell their Art in this Industry
* Over 100 Non-Profit Organizations with Art Programs
* Related books, publications and more
It's available in the e-book shop of Renee Phillips, The Artrepreneur Coach blog. It's sold as a downloadable PDF file.
Visit the e-book shop and pick up your copy of Sell Your Art in the Healthcare Art Market.
PLEASE SHARE
by