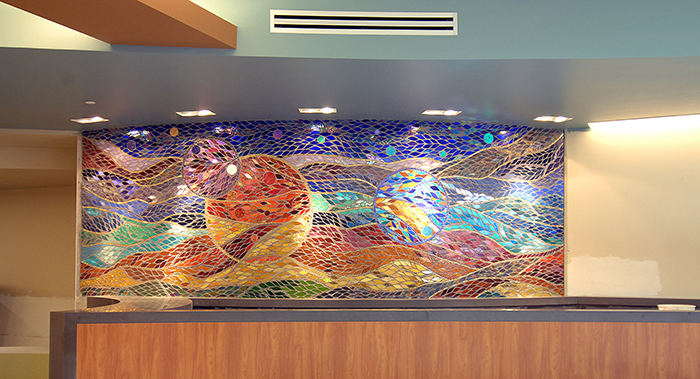 Interview Conducted By Pamela C. Turczyn
Pamela C.Turczyn www.pcturczyn.com is committed to the exploration of how visual art can have a healing effect on viewers. Her work has been exhibited in multiple medical and healing environments as well as galleries, museums and cultural centers world-wide. A frequent contributor to NY Spirit, her work has been widely published in the media. Her paintings are in many collections, including the Phipps Conservatory and Botanical Gardens in PA. She also maintains a blog art that supports the healing process. She is an award winner in Manhattan Arts International "The Healing Power of Art" exhibitions and has served as an award presenter. ~ Renée Phillips
Annette Ridenour is recognized as a leading pioneer in applying the arts to improve health and healthcare. She has stated, "Original art done with a healing intention is transformative. It can shape shift the hospital environment; it changes the energy."
As stated in her biography on her website, Ridenour served as one of the original board members of the Society for the Arts in Healthcare and co-founded the Blair L. Sadler International Healing Arts Competition, which recognized exemplary arts projects that have measurably improved the quality of healthcare. Numerous articles by her, about her, and about Aesthetics have appeared in publications that include Healthcare Design, Health Facilities Management, Healthcare Building Ideas, and Spirituality & Health.
She is also the president of Aesthetics, Inc., an art consultancy firm she founded in 1980, that specializes in the creation of art programs for hospitals. Located in San Diego, California, Aesthetics, Inc. helps healthcare organizations create physical environments "that reflect their history, culture and aspirations."
The Aesthetics team is comprised of architects, interior designers, graphic designers, environmental designers, artists, arts consultants and fund-raising professionals. The harmonious collaboration between the team and its clients, "leads, engages, educates and empowers an organization to express its uniqueness through interior architecture, design and the arts."
The firm has collaborated with more than 400 companies, with numerous major artists and architects around the world. Its impressive client list includes some of the largest and best-known healthcare organizations in the United States and Canada.
Excerpts from My Conversation with Annette Ridenour
In Mary Rockwell Lane's "Healing With the Arts" teleseminar Annette Ridenour stated, "There are artists who create artwork for their own healing, and that's a really important part. But there's a whole other area and field of artists who can be sensitive enough to what others need and actually create artwork that can provide a resonance that exists in and of itself. And what that requires is this intentionality." After hearing this I was inspired to interview her for my art that supports the healing process weblog. Here are some excerpts from my conversation with her:
PCT: Could you expand on the differences between artwork created with a healing intention for viewers, work intended to be healing for the artist and work done without any healing intentions?
AR: Many artists are creating works of art to work out personal issues or reflect on personal experiences and the actual act of creating the artwork can take them through a process that creates some kind of emotional, intellectual or psychological healing for them. For example, a lot of figurative artists have done self-portraiture working out imagery of themselves at different periods, sometimes through an illness. The process can be healing for the artist. Sometimes, they feel so inspired, they feel, "My goodness, this is so healing, it can be healing for other people!" That, in itself, is not accurate because it is very, very personal.
Then there is artwork where artists are exploring subjects in a series. For instance, I know of an artist who did a whole series of artwork on patterning…and it is lovely. She thought it would be, perhaps, healing to other people. But in essence, if it's a series that they're working out for design, composition or personal reflection, it doesn't mean it necessarily is going to be healing for other people.
The artwork I believe can be healing for other people reflects on the beauty and grace of nature, because nature in itself is very healing. It reflects perfect balance and harmony in many cases.
PCT: What vision are you holding for the future of art in medical and healing environments?
A.R.: I hold the vision that the entire space is a form of art where architecture and design and art are highly integrated together. I envision that the artist is highly regarded as an important and required part of the team creating the healing space. And, as you and I both know, healing spaces include homes and communities and are not just relegated to hospitals.
To learn more about Annette Ridenour and Aesthetics, Inc., visit her website at http://www.aesthetics.net
by